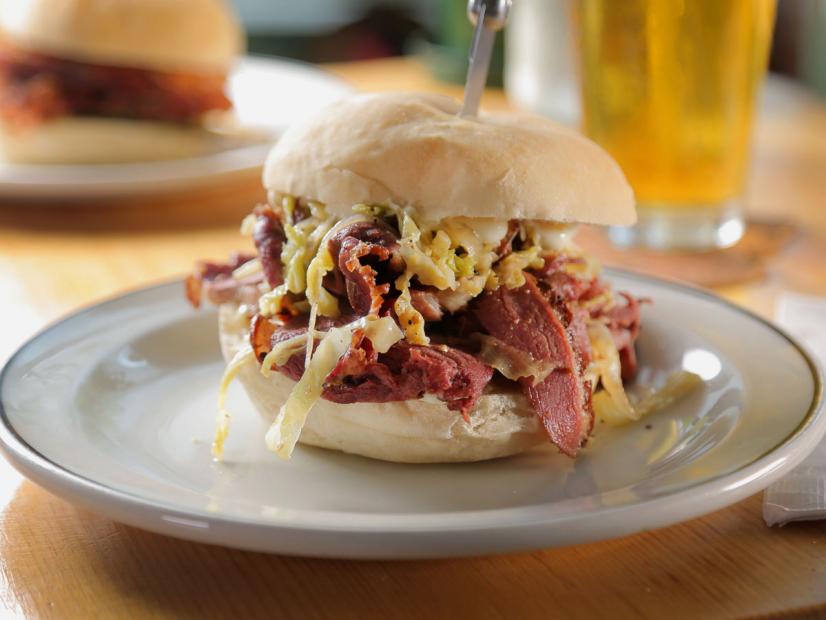 Prep Time
    •    Prep and cooking time: 55 minutes
    •    Yield: Serves 4

Ingredients
For smoked duck:
    •    1 tbsp curing salt
    •    1 tsp garlic powder
    •    1 tsp ground pepper
    •    1 tsp ground dill seeds
    •    1 tsp ground juniper berries
    •    2 x 2/3 pound duck breasts
    •    1 tsp ground coriander seeds

For cabbage slaw:
    •    1/2 onion
    •    2 tbsps butter
    •    salt and pepper
    •    1/2 cup white wine
    •    1/3 pound smoked bacon
    •    1/2 cup chicken stock (or duck stock if available)
    •    1 small savoy cabbage, chopped into 1/4 inch dice

To serve:
    •    mayonnaise, for serving
    •    4 white buns of your choice

Method
For the smoked duck: On a work surface, score the fat side of the duck breasts at 1/4-inch intervals (this will allow the fat to render more evenly and avoid curling of the skin). Combine the salt, coriander, dill, garlic powder, juniper berries and pepper in a small bowl and mix evenly. Rub this mixture on the flesh side of the duck breasts, making sure all of the mixture adheres to the duck. Wrap each breast in plastic wrap (or use a vacuum sealing machine), leaving as little air as possible. Keep refrigerated for 5 days (10 days if you are using a vacuum sealer).
Preheat a smoker to 200 degrees F.
Unwrap the duck and sear fat-side down in a hot pan at medium-high heat until golden brown, 2 to 3 minutes, then flip on the meat side and cook 1 more minute. Transfer the duck to the smoker and cook until the internal temperature reaches 130 degrees F, 1 hour 30 minutes. Set aside or keep in the refrigerator.
For the cabbage slaw: Cut the bacon into 1/4-inch pieces and slice the onion thin. Sweat (slowly cook without coloring) the onion, bacon and 1 tablespoon butter in a skillet on medium-low heat, about about 8 minutes. Add the wine and stock and turn the heat up to medium; let reduce by half, 6 to 8 minutes. Add the chopped cabbage and the remaining tablespoon butter and cook, stirring occasionally, until the cabbage has started to soften, about 12 minutes. Season to taste (sometimes you won't need to add salt, as the bacon might already be salty enough).
To serve: Put mayonnaise on both sides of the buns. Take a big spoonful of bacon and cabbage slaw and place it a the bottom half. Thinly slice the duck on its longer side (which is against the grain for a softer result) and heat up in a skillet, then add it on top of the cabbage slaw. Close the sandwich and enjoy! Repeat with the remaining ingredients to make 3 more sandwiches.
This great family recipe is thanks to Food Network at https://www.foodnetwork.com/recipes/smoked-duck-sandwich-8050487