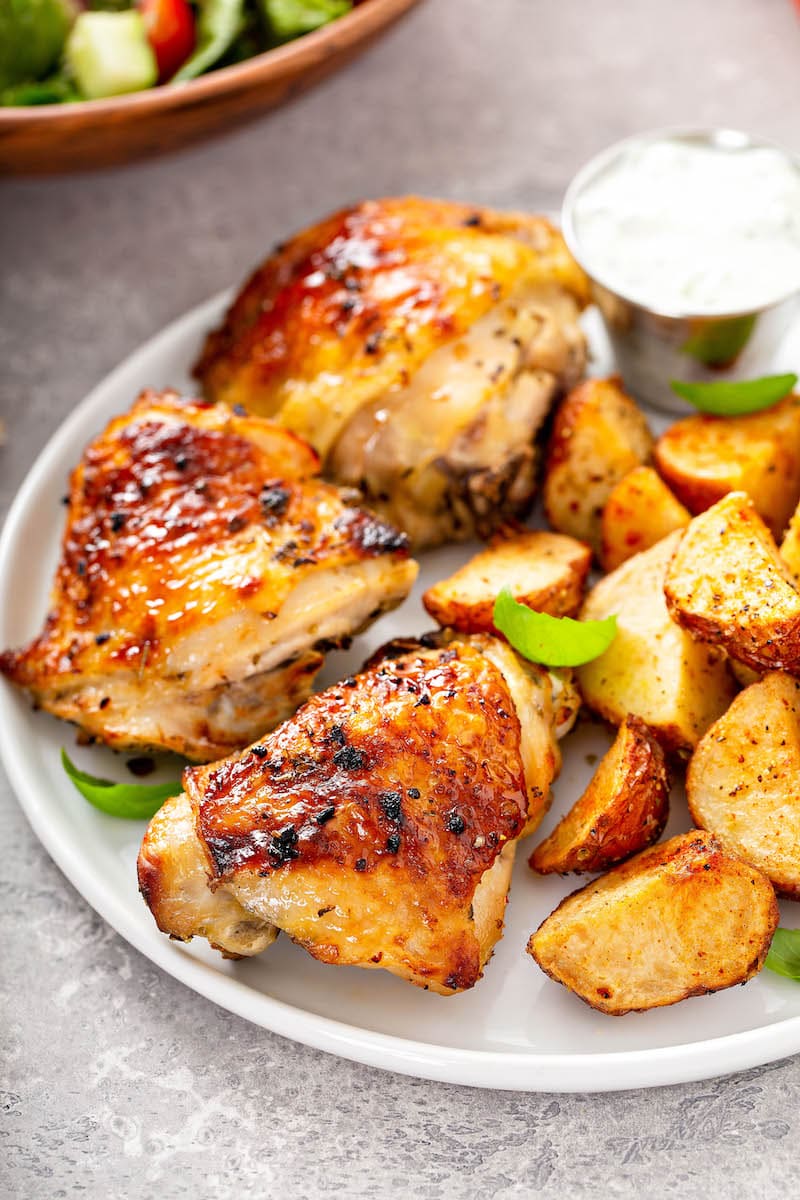 The Best Baked Chicken Thighs and Breasts
This Easy Baked Chicken Recipe is one of my family's all-time favorite dinners! Bone-in and skin-on breasts (or thighs!) are marinated in a citrusy, garlicky glaze then baked in the oven. You're going to love this simple baked chicken that can be used in so many ways.
This recipe has a simple, flavor-packed chicken marinade that honestly does most of the work for you. Let the chicken breasts or thighs soak up the marinade, then pop them in a baking dish, put them in the oven, and then walk away for 45 minutes. No need to stand over the stove, or fuss over a complicated recipe. Pour yourself a glass of wine and kick your feet up while your oven makes the best baked chicken of your life.

Prep Time
    •    Prep time: 5 minutes
    •    Cook time: 55 minutes
    •    Yield: Serves 6

Ingredients
    •    1 tsp salt
    •    1/2 tsp paprika
    •    2 tbsps olive oil
    •    juice from 1 lemon
    •    1 tsp black pepper
    •    juice from 1 orange
    •    1 tsp Italian seasoning
    •    1/2 tsp Italian seasoning
    •    3 cloves fresh garlic, minced
    •    salt and freshly cracked pepper to taste
    •    1.5 lbs chicken breasts and / or thighs (bone-in and skin on)

Method
Mix together all ingredients besides chicken. Place chicken in a bowl or large ziplock bag and add marinade.
Add marinade to chicken and toss to coat. Cover bowl or seal ziplock bag and place in fridge to marinade for 1 hour.
When ready to cook, preheat oven to 375°F. Place chicken breast, bone side down, on a baking pan.
Spoon on a little extra marinade on top of each piece of chicken and then toss remaining marinade. Sprinkle chicken with Italian seasoning, salt and pepper.
Bake in preheated oven until chicken meat is no longer pink at the bone and the juices run clear, 45 to 55 minutes. An instant-read thermometer inserted in the thickest part of the breast meat should read 165°F.
Cover chicken loosely with foil and allow to rest for 5 minutes, then serve. This ensures your chicken stays extra juicy.
This great family recipe is thanks to The Novice Chef at https://thenovicechefblog.com/the-best-baked-chicken-recipe/