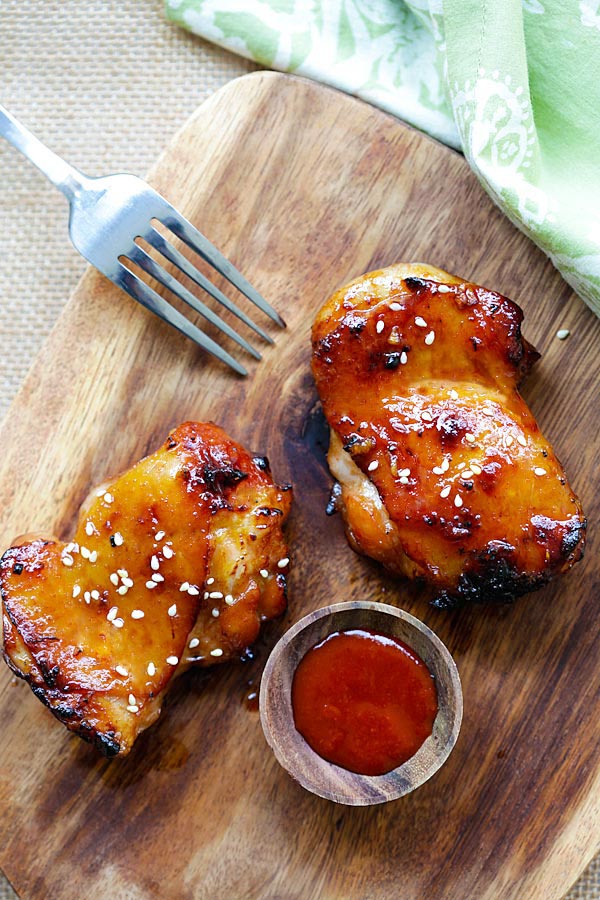 This crazy delicious chicken with honey sriracha marinade. Make it on a skillet, bake or grill for dinner tonight.
Prep Time
    •    Prep time: 10 minutes
    •    Cook time: 10 minutes
    •    Yield: Serves 2

Ingredients
    •    1 tbsp oil
    •    3 cloves garlic, minced
    •    white sesame seeds (Optional)
    •    4 x (12 oz or 340g) chicken thighs, deboned but skin-on

For honey sriracha marinade:
    •    1 pinch salt
    •    1 1/2 tbsps honey
    •    1 tsp Sriracha chili sauce
    •    1 tbsp Tamari or soy sauce
    •    1 tsp rice vinegar or apple cider vinegar

Method
Whisk the Honey Sriracha Marinade together. Mix well.
Add the garlic and the Marinade to the chicken, stir to combine well, marinate for 30 minutes.
Heat up a skillet (cast-iron preferred) on medium heat. Add the oil. Transfer the chicken to the skillet and cook on both sides, until they turn golden brown and cooked through.
Add the remaining Marinade to the skillet, as soon as it thickens, turn off the heat, top with some sesame seeds (if using) and serve the chicken immediately.
NOTE: You can bake the chicken in an oven at 375F for 20 minutes, or until the chicken is cooked through. You may also grill the chicken.
This great family recipe is thanks to RASA MALAYSIA at https://rasamalaysia.com/honey-sriracha-chicken/