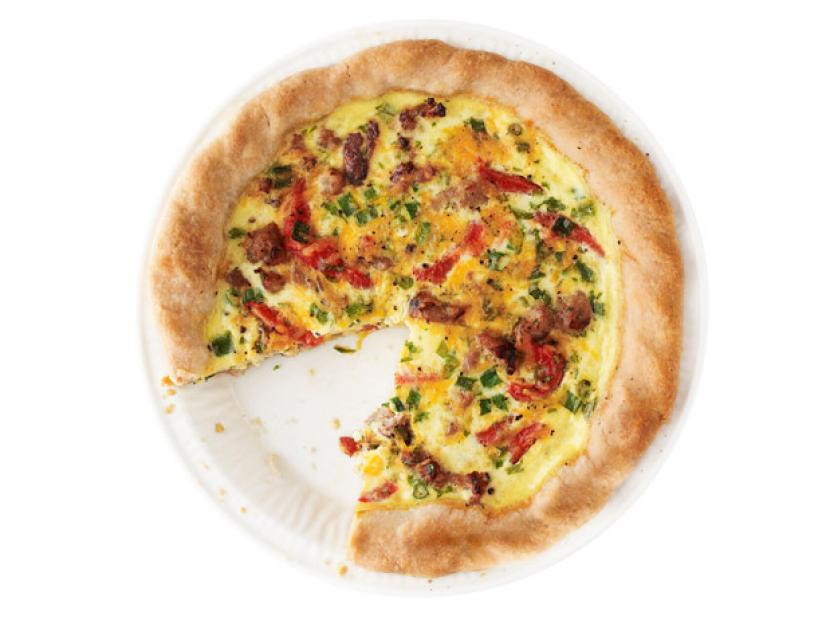 Roasted Pepper, Scallion and Sausage Quiche
Prep Time
    •    Prep time: 30 minutes
    •    Cook time: 1 hour 20 minutes
    •    Yield: Serves 4

Ingredients
    •   1/4 to 1/2 cup roughly chopped jarred roasted peppers
    •   1/4 to 1/2 cup chopped scallions
    •   1/2 cup cooked and crumbled sausage
    •   3/4 to 1 cup shredded cheddar cheese
    •   3 large eggs
    •   1 1/4 cups heavy cream, half-and-half or milk
    •   Kosher salt and freshly ground pepper
    •   1 to 2 tablespoons chopped fresh parsley
    •   1/2 teaspoon paprika or chile powder, or some grated lemon zest (optional)
Butter Pie Crust:
    •   1 3/4 cups all-purpose flour, plus more for dusting
    •   1/2 teaspoon salt
    •   2 tablespoons sugar
    •   12 tablespoons (1 1/2 sticks) unsalted butter, diced and chilled
    •   4 teaspoons apple cider vinegar or white vinegar
Method
Preheat the oven to 375 degrees F. Line a 9-inch pie plate with pie dough and crimp as desired; chill 30 minutes. Line with foil, then fill with pie weights or dried beans. Bake until the crust is set, about 20 minutes. Remove the foil and weights and continue baking until lightly golden, 5 to 10 more minutes. Let cool while you prepare the filling.
Make the filling: Put the roasted peppers and scallions in a large bowl. Add the sausage and cheddar and toss to combine.
Whisk the eggs, heavy cream, 1/2 teaspoon salt and 1/4 teaspoon pepper in a large bowl. Stir in the parsley. Add the paprika, chile powder or lemon zest, if desired. Spread the vegetable-cheese mixture in the crust, then pour the egg mixture on top. Reduce the oven temperature to 350 degrees F and bake until the filling is set, 40 to 50 minutes. Let cool at least 30 minutes before slicing.


Butter Pie Crust:
Pulse the flour, salt and sugar in a food processor. Add about one-third of the butter; process until the butter is combined. Pulse in the remaining butter in 5 or 6 pulses to form coarse crumbs. Add the vinegar; pulse quickly a few times while adding 1/3 cup ice water. Squeeze some dough between your fingers. It should just hold its shape; if it's still crumbly, quickly pulse in more ice water by the tablespoonful. (Do not overwork the dough.)
Turn the dough out onto a large piece of plastic wrap. Wrap the dough, then press and flatten into a thin round. Refrigerate 1 hour.
Roll out the dough into an 11-to-12-inch round, about 1/8 inch thick, on a lightly floured surface. Center over a 9-inch pie plate. Fold in the edges and crimp as desired. Refrigerate at least 30 minutes before using.


This great family recipe is thanks to Food Network Recipes at https://www.foodnetwork.com/recipes/food-network-kitchen/roasted-pepper-scallion-and-sausage-quiche-recipe-2042780