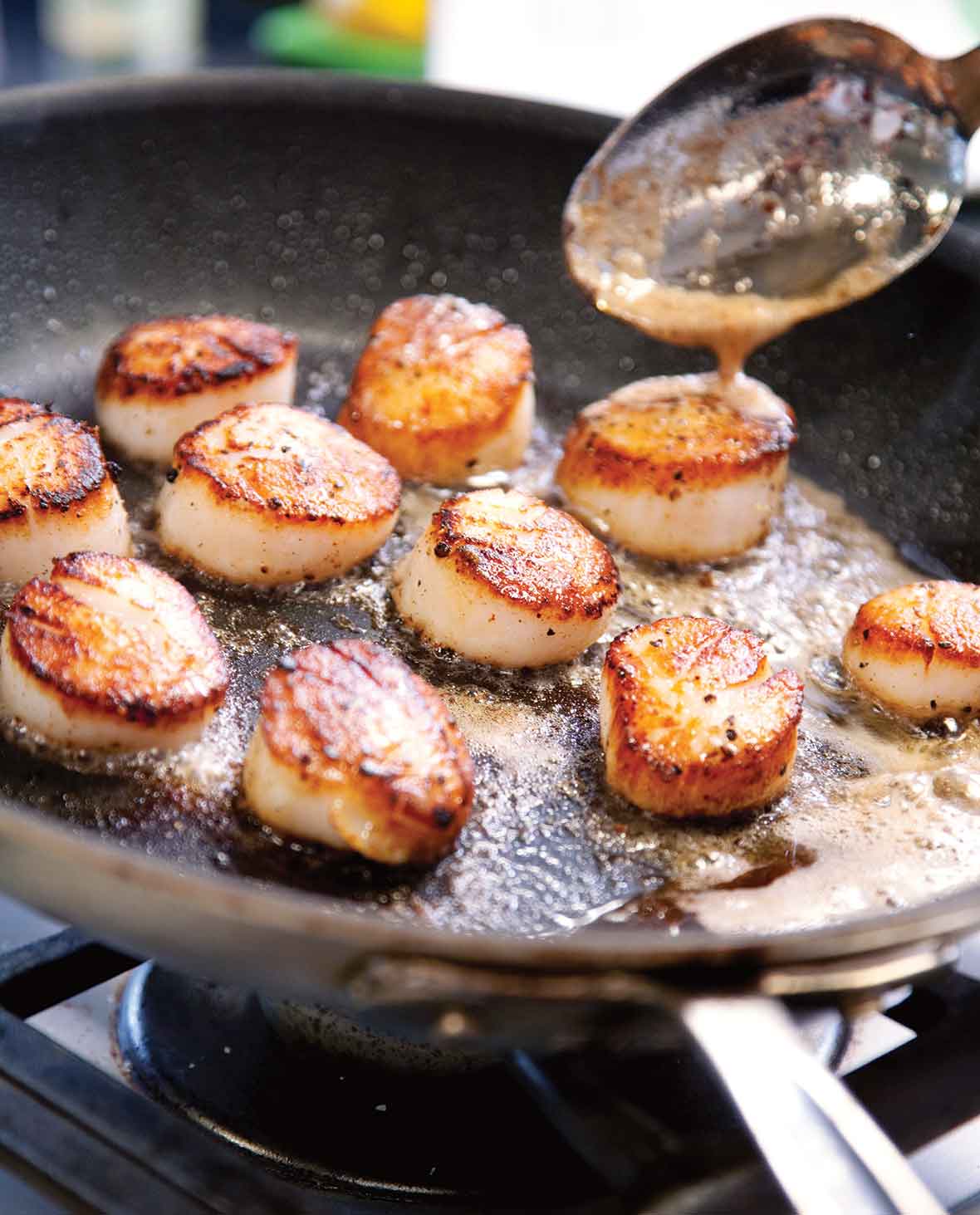 The secret to these seared scallops in butter is to cook them in a hot skillet with ripplingly hot oil and baste them with butter. Quick and easy and impressive. Twenty minutes from fridge to table.

Prep Time
    •    Prep time: 10 minutes
    •    Cook time: 20 minutes
    •    Yield: Serves 2
Ingredients
    •   12 ounces fresh (not frozen) sea scallops
    •   Salt and freshly ground black pepper, to taste
    •   1 tablespoon mild olive or vegetable oil
    •   1 tablespoon unsalted butter or ghee (1/2 oz)
    •   Lemon wedges, for serving
Method
Place the scallops on a large plate or rimmed baking sheet lined with a clean dish towel or several paper towels. Place another clean dish towel or stack of paper towels on top of the scallops and gently press to blot any liquid. Let the scallops rest at room temperature for 10 minutes to absorb any excess moisture from the scallops.

Just before cooking, season the scallops with salt and pepper. Heat the oil in a large cast-iron skillet over medium-high heat until hot and almost smoking. Add the scallops in a single layer, preferably around the perimeter of the skillet and definitely without crowding them. Cook, without touching the scallops, until they're magnificently golden brown, 1 1/2 to 2 minutes.

Reduce the heat to medium and, using tongs, flip the scallops. (If the scallops stick to the skillet, just let them be still for anotherr moment; this is usually a sign that they're just not ready to be turned yet. When they're ready, they'll let go. And for the love of all things good, don't use a plastic spatula to flip these guys, as they're too delicate. Tongs are best, but a super skinny metal spatula—you know, a bendy flexible spatula —also works well.) Add the butter to the skillet and use a large spoon to baste the scallops with melted butter as you continue to cook the scallops until the sides centers are opaque, 60 to 90 seconds more, depending on the size. Use tongs to transfer the scallops to plates or platters as they are done. Serve the seared scallops immediately with the lemon wedges.
NOTES: Cook the scallops as directed above but serve with this sauce on the side: Cook 2 tablespoons unsalted butter in a small saucepan over medium heat, tilting the saucepan constantly, until the butter turns golden brown and has a nutty aroma, 3 to 4 minutes. Add 1 minced small shallot and cook until fragrant, about 30 seconds. Remove the pan from the heat and stir in 2 teaspoons minced flat-leaf parsley leaves, 1/4 teaspoon minced thyme leaves, and 1 teaspoon fresh lemon juice. Season with salt and pepper to taste.


This great family recipe is thanks to Leite's-Culinaria Recipes at https://leitesculinaria.com/95605/recipes-seared-scallops.html