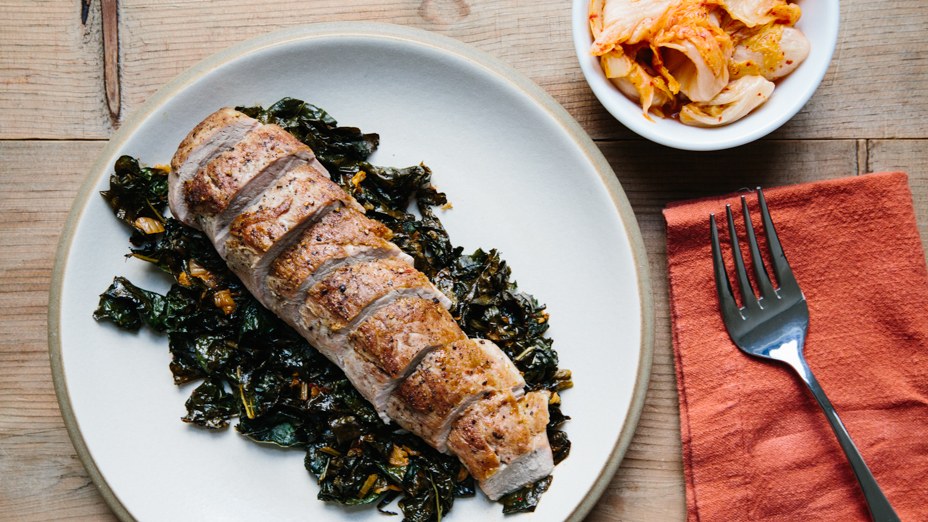 Pork Tenderloin with Kale and Kimchi
Cooking kimchi with greens mellows the intensity while still delivering a ton of flavor. Swap out the kale for swiss chard, or mustard greens for something a bit spicier.

Prep Time
    •    Prep time: 5 minutes
    •    Cook time: 25 minutes
    •    Yield: Serves 4
Ingredients
    •    1 pork tenderloin (about 1 ½ lb.)
    •    Kosher salt and freshly ground pepper
    •    2 tablespoons vegetable oil
    •    ½ small bunch kale, ribs and stems removed, leaves coarsely chopped (about 3 ½ cups)
    •    1 cup chopped kimchi
    •    1 tablespoon reduced-sodium soy sauce
Method
Preheat oven to 400°. Season pork with salt and pepper. Heat oil in a large skillet over medium-high heat. Sear pork until golden brown on bottom side (do not turn), 5–8 minutes.
Add kale, kimchi, and soy sauce to skillet and toss to coat. Transfer skillet to oven and roast until an instant-read thermometer inserted into thickest part of tenderloin registers 140°, 10–15 minutes. Transfer pork to a cutting board and let rest at least 5 minutes before slicing. Serve pork with kale mixture.


This great family recipe is thanks to Bon-appetit Recipes at https://www.bonappetit.com/recipe/pork-tenderloin-kale-kimchi