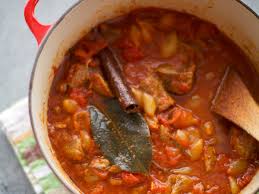 Greek stifados are hearty, onion-filled stews. Frozen pearl onions, which don't need any finicky peeling, make this dish a snap. Complete the meal with roasted potatoes or buttered orzo.

Prep Time
    •    Prep time: 5 minutes
    •    Cook time: 2 hours 15 minutes
    •    Yield: Serves 4-6
Ingredients
    •    2 pounds lamb stew meat, cut into 1 1/2-inch pieces
    •    Kosher salt
    •    Freshly ground black pepper
    •    2 tablespoons olive oil
    •    1 cup dry white wine
    •    One 28- to 32-ounce can whole tomatoes in juice, chopped (with juice)
    •    1 large sprig fresh rosemary
    •    One 3-inch cinnamon stick
    •    1 bay leaf
    •    12 ounces frozen pearl onions
Method
Season the meat all over with salt and pepper. Heat 2 tablespoons oil in large heavy pot over moderately high heat until hot but not smoking. Brown the meat on all sides in 2 batches, about 5 minutes per batch. Transfer to a plate.
Add the wine to the pot, and bring to a boil. Cook, stirring and scraping up the browned bits on the bottom of the pot, until the wine is slightly reduced, about 3 minutes. Add the tomatoes and their juices, the rosemary, cinnamon stick, bay leaf, pearl onions and the browned lamb and any juices that have accumulated on the plate. Bring the mixture to a boil, then reduce the heat to moderately low, cover tightly, and cook until the lamb is fork-tender, 1 1/2 to 2 hours.
Uncover the pot and continue to simmer, stirring occasionally, until the sauce has thickened slightly, about 15 minutes. Season to taste with salt and pepper. Remove and discard the rosemary sprig, cinnamon stick and bay leaf. Serve warm.


This great family recipe is thanks to Food & Wine Recipes at https://www.foodandwine.com/recipes/lamb-stifado