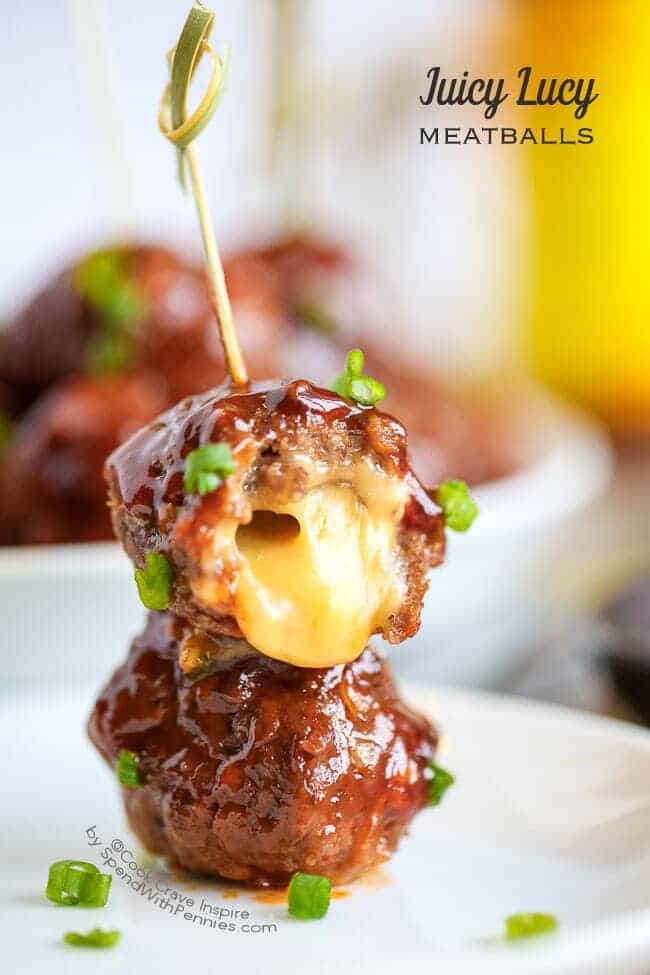 Friends… this is it…  this is the show stopping appetizer you've been waiting for!  This is the recipe that people are going to ask you for over and over again. If you've never had a Juicy Lucy (aka Jucy Lucy) you'll want to add it to your bucket list!  It's basically an inside out cheeseburger… a beef patty with gooey cheese on the inside. Yum right?!
I love and pretty much require hot sauce on EVERYTHING, cheesy meatballs included! I've found that Lingham's Hot Sauces provide the perfect amount of sweet heat and consistency for this sauce. Not only that, Lingham's sauces are 100% all natural and have absolutely no bulking agents meaning you're getting REAL flavor!
Prep Time

    •    Prep time: 15 minutes
    •    Cook time: 20 minutes
    •    Yield: Serves 15
Ingredients
    •   1 pound lean ground beef
    •   2 tablespoons minced onion
    •   1 egg yolk
    •   3 tablespoons Panko bread crumbs
    •   1 teaspoon Worcestershire sauce
    •   2 tablespoons Lingham's Hot Sauce
    •   salt and ground black pepper to taste
    •   4 oz processed cheese or cheddar cheese cut into 15 pieces
    •   green onions for garnish optional
Sauce:

    •   1/3 cup Lingham's Hot Sauce
    •   2/3 cup barbecue sauce
Method
Preheat oven to 400 degrees. Line a baking sheet with foil and spray with cooking spray.

Cut cheese into 15 small squares, set aside.

Combine onion, egg yolk, bread crumbs, Worcestershire sauce, Lingham's Hot Sauce and salt & pepper. Mix until well combined. Add in ground beef and mix just until combined.

Divide beef mixture into 15 pieces. Flatten one piece, add a piece of cheese in the middle and wrap the beef around the cheese sealing it as best you can.

Bake 15-18 minutes. (Don't worry if you see the cheese leaking out, there will be lots more inside).
Sauce: Combine sauce ingredients in a saucepan and bring to a boil over medium heat. Allow to boil 2 minutes while stirring. Add in meatballs and toss to coat. Serve warm.


This great family recipe is thanks to Spend with Pennies Recipes at https://www.spendwithpennies.com/juicy-lucy-meatballs/