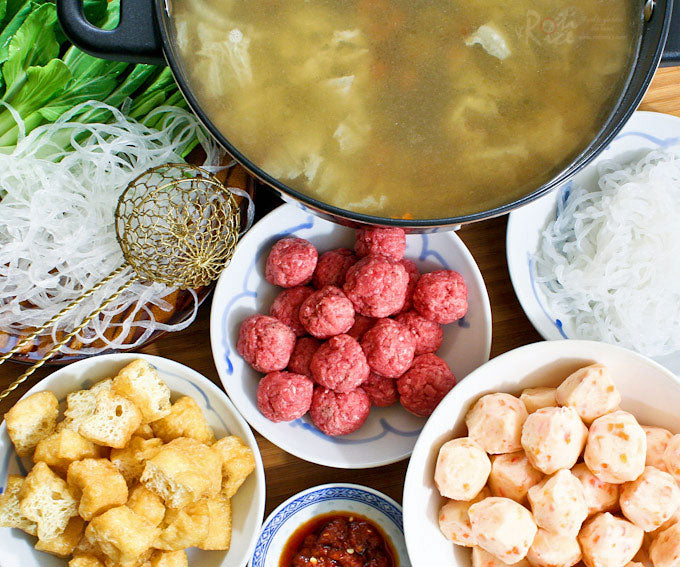 Chinese Hot Pot – Perfect for Social Gatherings
The Chinese Hot Pot is a social kind of meal, often prepared for family gatherings. Many Chinese families in Malaysia opt to have this meal for their Chinese New Year reunion feast because it is a good and fun way for families to renew ties and bond during the festivities. Everyone at the table enjoys cooking and eating their food leisurely over stories and news on current life events. It is an experience not to be missed.
Meatballs are good choices for a hot pot. You can find the recipe here. Pork or chicken may be used in place of beef.
Prep Time
    •    Prep time: 30 minutes
    •    Cook time: 2 hours
    •    Yield: Serves 4

Ingredients
Broth:
    •   2 chicken carcasses
    •   10 cups water (2.4 liters)
    •   5 leaves Napa cabbage (sliced)
    •   1 tbsp goji berries (rinse and soak for 10 minutes, then drained)
    •   Salt and pepper
Choice or Combination of:

    •   Thinly sliced beef / pork / chicken
    •   Fish / shrimps / squid / scallops
    •   Meatballs / fish sticks / fish cakes
    •   Dumplings / wontons
    •   Tofu / tofu skin / mushrooms / eggs
    •   Rice noodles / glass noodles / egg noodles
    •   Napa cabbage / baby bok choy / choy sum / gai lan / garland chrysanthemum
Condiments and Dipping Sauces:

    •   Garlic chili sauce
    •   Seafood sauce
    •   

Sesame oil




Method


Bring water in a large pot to a boil. Add chicken carcasses, salt, and pepper. Reduce heat to low and simmer for 1½ hours. Skim off scum appearing on the surface.
Remove chicken carcasses with a slotted spoon. Add Napa cabbage and goji berries. Simmer for another 10 minutes until Napa cabbage is very soft. Turn off heat and transfer broth to an electric fondue pot or deep skillet until about half full. Do not over fill as food will be added to the broth at the table.
Set a bowl, small wire strainer, and dipping sauces for each place setting. Arrange all other ingredients into different bowls around the electric pot at the table.
Bring broth to a boil. Add small portions of desired ingredients into broth and simmer till cook.
Dish into individual serving bowls with slotted spoon or small wire strainer. Dip cooked food into sauces and enjoy.
When cooked food have been distributed, repeat until everyone has had their fill. Top up with more broth when necessary.
NOTES:
Noodles are normally added towards the end when the broth is most flavorful after cooking all the other ingredients.


This great family recipe is thanks to Rotin Rice Recipes at https://www.rotinrice.com/chinese-hot-pot/