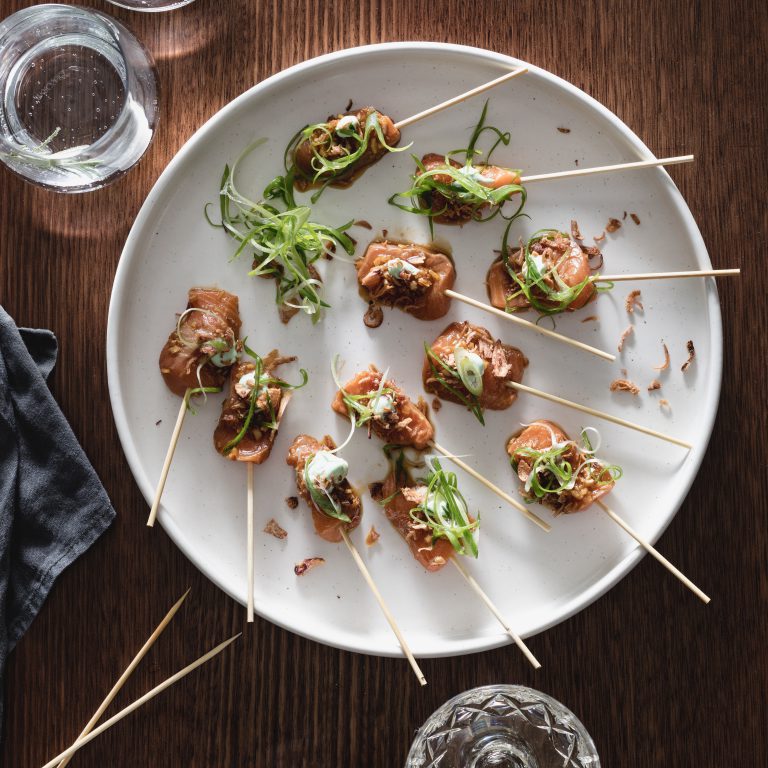 Prep Time

    •    Prep time: 25 minutes
    •    Cook time: 10 minutes
    •    Yield: Serves 20
Ingredients
    •    500g Fresh Huon Salmon
    •    2 Spring onions
    •    1/2 White onion - minced
    •    1 Garlic Clove - minced
    •    1 tbsp Olive Oil
    •    2 tbsp Lemon juice
    •    1 tbsp Soy Sauce
    •    1/4 tsp Ginger - minced
    •    100g Japanese (kewpie) mayonnaise
    •    150g Crispy Shallots
    •    2tbsp Wasabi paste (or Freshly grated if you can get it)
Method
To make the dressing combine, white onion, garlic, olive oil, lemon juice, soy sauce, ginger and 30ml of chilly water into a bowl. Mix all ingredients and have a taste. The flavour should be tart and a little salty. Let the mixture sit for 30 minutes then taste again.

Slice Huon Salmon into sushi size pieces (quite thin) and marinate in mixture for 5 minutes.

Once marinated remove from dressing and using a small bamboo skewer, wrap the fish around skewer to resemble a lollypop.

Squeeze some wasabi mayo on top, garnish with crispy fried shallots and spring onions. For a great looking centre piece, serve lollypops on banana leaves.


This great family recipe is thanks to Huon-Aqua Recipes at https://www.huonaqua.com.au/recipes/huon-salmon-lollypops/