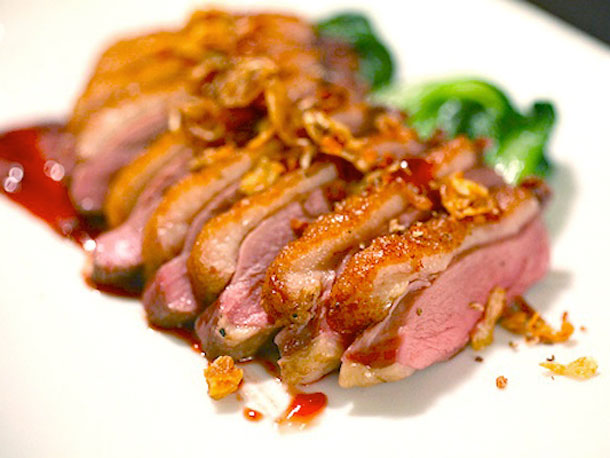 Prep Time

    •    Prep time: 15 minutes
    •    Cook time: 1 hour or up to 4 hours
    •    Yield: Serves 4
Ingredients
    •   4 boneless duck breasts (about 5 to 6 ounces each; 150-175g)
    •   Kosher salt and freshly cracked black pepper
Method
Season duck generously with salt and pepper. For best results, place on a plate and refrigerate uncovered overnight before proceeding.
Seal duck in vacuum bags. Place in 130°F (54°C) water bath for at least 45 minutes and up to 4 hours. Remove from bags and dry thoroughly with paper towels.
Place breasts skin side-down in heavy-bottomed 12-inch non-stick or cast iron skillet and set over high heat until sizzling, about 2 minutes. Reduce heat to medium and cook, moving and pressing breasts to ensure good contact between skin and pan until golden brown and crisp, about 5 minutes. Flip and cook second side until barely colored, about 30 seconds. Transfer to paper towel-lined plate and allow to rest for 5 minutes.
Slice breasts crosswise into 1/2-inch strips and serve.


This great family recipe is thanks to Serious Eats Recipes at https://www.seriouseats.com/recipes/2010/09/sous-vide-101-duck-breast-recipe.html