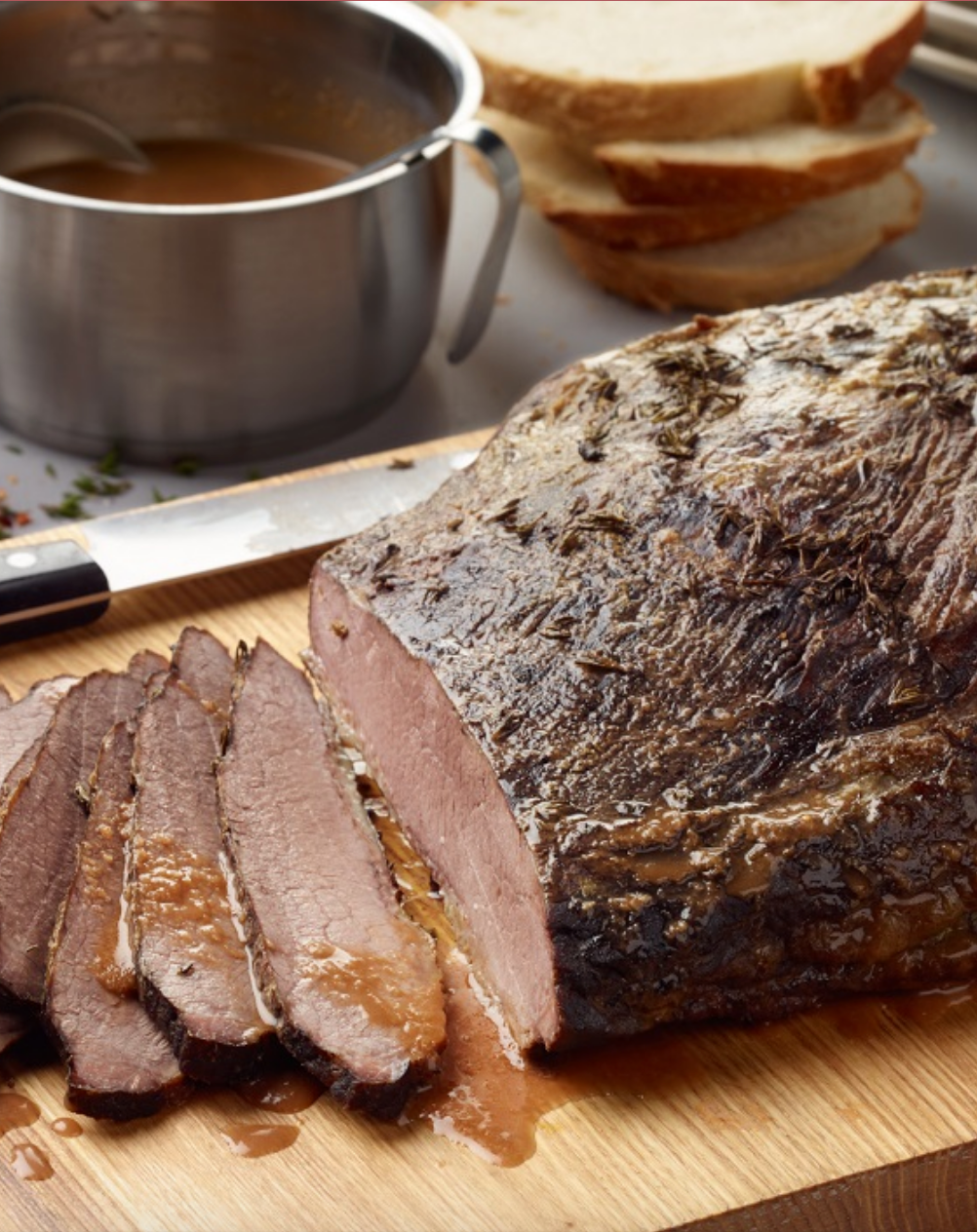 Competition-Style BBQ Beef Brisket
From Grill To Perfection
Prep Time
    •    Prep time: 30 minutes
    •    Cook time: 3 hours
    •    Yield: Serves 10
Ingredients
    •    1 carrot, sliced
    •    1/2 cup red wine
    •    8 cherry tomatoes
    •    3 tbsps kosher salt
    •    1/2 tbsp fresh thyme
    •    1/2 tbsp fresh oregano
    •    1/4 cup yellow mustard
    •    1/2 cup low-sodium beef both
    •    1 tbsp freshly ground white pepper
    •    5-7 pound beef brisket flat, with fat
    •    1/2 fennel bulb, cored and thinly sliced
    •    1/2 sweet onion, peeled and thinly sliced
    •    1 head roasted garlic, processed to paste
Method
Brush the brisket with the mustard, then sprinkle evenly with salt and pepper. Place on a baking sheet and refrigerate.


Prepare grill for low two-zone grilling. Pile unlit charcoal on one side of the grill. Fill a chimney with charcoal. Stuff two sheets of newspaper in the bottom of the chimney and light it. When the coals are fully engaged – you should see flames peeking over the top – pour them over the unlit charcoal. Cover the grill and close the vents 75 percent. If you are using a gas grill, light the gas and adjust the temperature on one side of the grill to medium.


When the temperature reaches 300oF, clean the grill grate. Place the brisket on the cool side of the grill, fat-side up. Position a drip pan below the brisket. Cover the grill and cook for 3 hours, or until a thermometer inserted into the meat reaches 170oF. Rotate the brisket after 1 hour to develop an evenly caramelized crust. Add more charcoal and adjust vents as necessary to maintain fire temperature.


While the brisket is cooking, prepare the braising liquid. In a blender on high speed, mix together garlic, wine, broth, oregano and thyme. Pour into bowl and set aside until ready to use.


In the bottom of a roasting or aluminum pan that is large enough to hold the brisket and also fits on the grill, layer the tomatoes, fennel, onion and carrot.


After 3 hours, place the brisket, fat-side down, on top of the vegetables. Pour the braising liquid over the brisket and cover the pan tightly with heavy-duty aluminum foil. Return the covered brisket to the grill and cook about 2 hours more, until a thermometer registers 195oF.


Remove the pan from the grill and rest the brisket. Place the brisket fat-side up in a 9- x 13-inch baking dish. Process the braising liquid and vegetables briefly in a blender or press them through a fine sieve. Pour the liquid over the brisket, tent with foil and let sit at room temperature for 1 hour. Slice the brisket against the grain in 1/4-inch thick slices. Fan the slices onto a platter and drizzle with some of the braising liquid.
NOTES: We offer a lot of advice in this book about the finer details of different grilling methods. But from direct grilling to grill roasting to low offset cooking, one of the most important tasks for grilling meat, in particular, to perfection doesn't actually take place on the grill. We cannot stress enough the importance of resting meat before serving it. If you cut into or serve it right away, the juice will not have time to redistribute and will drain the meat, leaving you a dry meal. We suggest resting smaller pieces of meat for 5-10 minutes; and larger pieces for 15-30 minutes


This great family recipe is thanks to True Aussie Beef And Lamb Recipes at https://www.trueaussiebeefandlamb.com/recipes-usa/foodservice-recipes/beef/competition-style-bbq-beef-brisket/