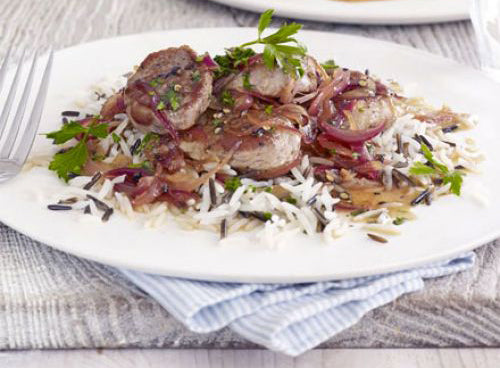 Pork with Sweet & Sour Onion Sauce
This healthy, meaty main uses lean pork fillets and is on the table in just 30 minutes - serve with your choice of grain.
Prep Time
    •    Prep time: 10 minutes
    •    Cook time: 20 minutes
    •    Yield: Serves 4
Ingredients
    •    2 tbsps olive oil
    •    75ml maple syrup
    •    150ml cider vinegar
    •    2 tbsps coarse black pepper
    •    small bunch parsley, chopped
    •    1 large red onion, halved and sliced
    •    250g mixed basmati rice and wild rice
    •    600g pork fillet, cut into 4cm-thick slices
Method
Boil the rice in plenty of water, following pack instructions, until cooked. Drain, return to the pot and cover to keep warm.
Meanwhile, sprinkle the meat on all sides with the black pepper and some salt. Heat 1 tbsp of the oil in a large frying pan. Sear the meat on both sides until nicely browned. Remove from the pan.
Add the remaining oil and the onion to the pan. Cook for 5 mins, then pour in the vinegar and let reduce for 1 min. Stir in the maple syrup, then return the pork to the pan and heat for 5 mins until cooked through. Serve the pork and sauce spooned over the rice and scattered with the parsley.


This great family recipe is thanks to BBC Goodfood Recipes at https://www.bbcgoodfood.com/recipes/pork-sweet-sour-onion-sauce