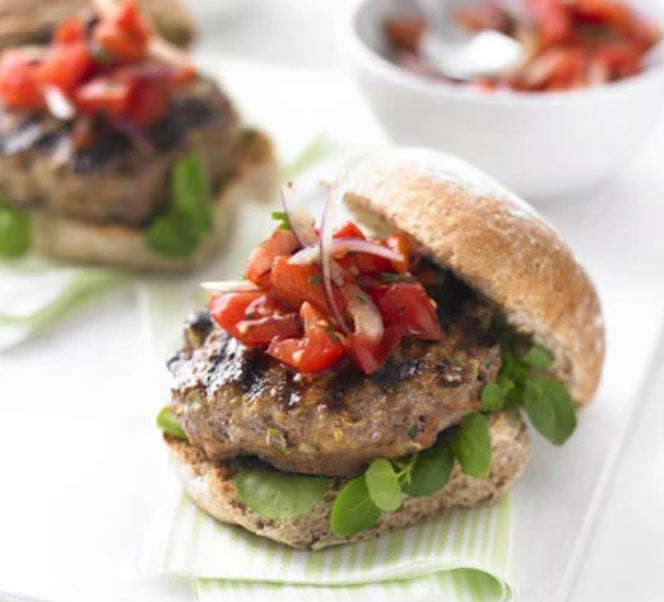 The ultimate makeover: BURGERSSS
Turn a barbecue favourite into a superhealthy treat without compromising on taste.
Prep Time
    •    Prep time: 25 minutes
    •    Cook time: 40 minutes
    •    Yield: Serves 4

Ingredients
For the burgers:
    •    25g watercress
    •    2 tsps Dijon mustard
    •    1 medium egg, beaten
    •    400g of lean beef mince
    •    140g finely grated carrot
    •    1 tbsp chopped tarragon
    •    2 garlic cloves, finely chopped
    •    5 spring onions, finely chopped
    •    1 1/2 tsp rapeseed oil, for brushing
    •    4 wholemeal bread rolls, split in half

For the roasted pepper salsa:
    •    2 tsps lime juice
    •    pinch crushed chillies
    •    2 tsps snipped chives
    •    1/4 very small red onion, thinly sliced
    •    100g cherry or baby plum tomatoes, halved
    •    2 large red peppers halved lengthways and deseeded

Method
Tip the mince into a bowl with the spring onions, grated carrot, garlic, mustard, tarragon and egg. Mix well using a fork. Season with pepper and a pinch of salt, then divide the mixture into 4. Flatten each piece with your hands into a 10cm round (A), about 2cm thick – a similar width to the buns. Chill for about 30 mins. Or can be made a day ahead: stack the burgers between pieces of greaseproof paper to stop them sticking, wrap in cling film then chill until ready to cook.
Meanwhile, heat oven to 200C/fan 180C/ gas 6. Lay the peppers, cut sides down, on a non-stick baking sheet. Roast for 35 mins until the skins are charred, laying the tomatoes next to them, cut-side up, for the final 3 mins just to soften slightly. Remove and immediately transfer the peppers to a small bowl and cover with cling film. Leave for 5-10 mins until cool enough to handle. Peel off the pepper skins (B), chop the peppers and tip them back into the bowl to join any juices there. Chop the tomatoes and stir into the peppers with the lime juice, chives, onion and chillies. Taste and add a grind of pepper if needed. Set aside. Can be made 1-2 days ahead and chilled.
Heat a griddle pan, or cook the burgers on the barbecue. Lay the cut sides of the buns on the griddle and cook until marked with the griddle bars. Brush each burger on one side with some of the rapeseed oil. Place on the hot griddle, oiled side down. Cook – don't move them or they may stick – for 5 mins for medium, brush the unoiled side with the rest of the oil (C), then turn and cook for another 5 mins. (For well done, add an extra 1-2 mins to each side.)
Remove and let the burgers rest for 2-3 mins. Drizzle a little of the pepper juices over the bottom of each bun to moisten, lay on some watercress sprigs, top with a burger, then a spoonful of the salsa (D), spooning over some more of the juices. Sandwich together with the tops of the buns.
This great family recipe is thanks to BBC Good Food at https://www.bbcgoodfood.com/recipes/ultimate-makeover-burgers