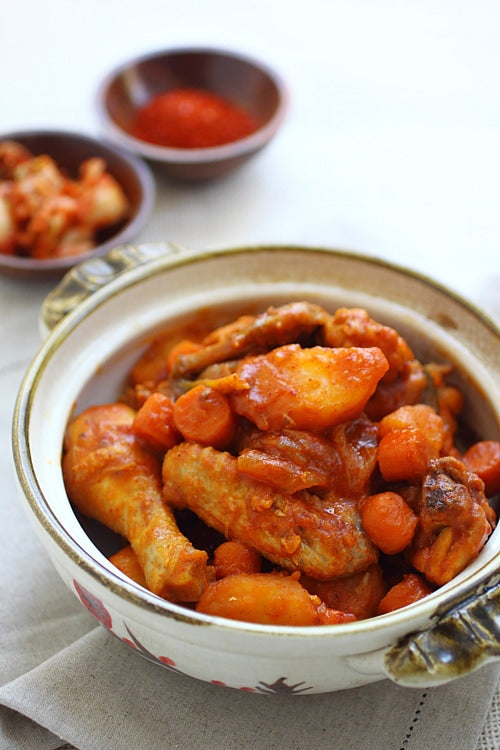 Korean Spicy Chicken Stew
This Korean Spicy Chicken Stew made with poatoes, chicken, onion, baby carrots, scallions, soy sauce, chili paste. SOOO easy and delicious!
Prep Time
    •    Prep time: 10 minutes
    •    Cook time: 1 hour
    •    Yield: Serves 4

Ingredients
    •    2 tbsps oil
    •    5 baby carrots
    •    1 onion, sliced
    •    2 stalks scallions, cut into 2 inch lengths
    •    10 oz. (about 280 g) potatoes, cut into pieces
    •    1 1/4 lbs (about 0.5 kg) chicken, cut into pieces and seasoned with some salt and pepper

For seasoning:
    •    1/2 cup water
    •    1 tbsp soy sauce
    •    1 tbsp rice wine, or sake
    •    1 tsp Korean chili powder
    •    3 tbsps Korean chili paste
    •    1 tsp anchovy sauce or fish sauce, to taste

Method
Heat the oil in a large pot over high heat. Working in batches if necessary, add the chicken, skin-side down, and brown on both sides, about 6-7 minutes per side.
In a small bowl, combine all the Seasoning ingredients and mix well. Set aside.
When all the chicken is browned, add the onion, potatoes, baby carrots, and scallions. Stir a few times to combine well. Add the Seasoning into the pot, stir to blend well with all the ingredients. Cover the pot reduce the heat to medium-low, stirring now and then. Cook for about 45-60 minutes or until the chicken is cooked through and the potatoes are tender. Add some water if the stew is too dry.
This great family recipe is thanks to RASA MALAYSIA at https://rasamalaysia.com/korean-spicy-chicken-stew/