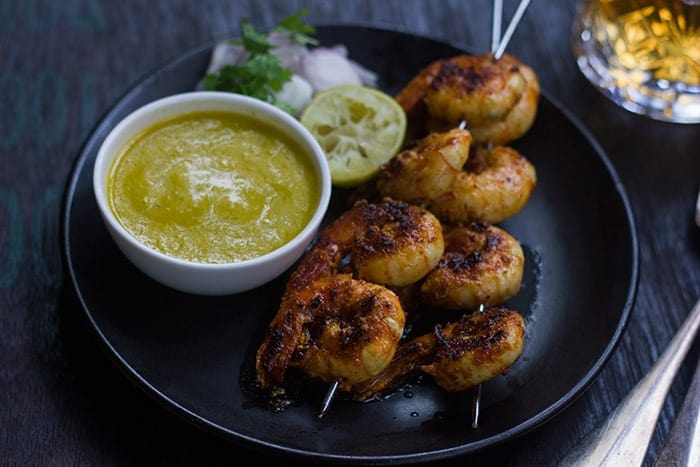 The best tandoori prawn with a recipe for an easy marinade that only takes a few minutes. This Indian appetizer is grilled which lends it a smoky flavor.
Prep Time
    •    Prep time: 10 minutes
    •    Cook time: 10 minutes
    •    Yield: Serves 2

Ingredients
For the marinade:
    •    salt to taste
    •    1 lemon (juice of)
    •    ¼ cup Hung Curd
    •    1 tsp chili powder (red)
    •    ¼ tsp turmeric (powder)
    •    ½ tsp garam masala (powder)
    •    1 tsp coriander (heaping powder)
    •    1 tsp ginger garlic (heaping fresh paste)

For the prawns:
    •    a pinch of salt
    •    1 lemon (juice of)
    •    2 tbsps butter (melted)
    •    ½ tsp chili flakes (optional)
    •    2 tbsps coriander (chopped)
    •    12 prawns, deveined and cleaned
    •    chat masala and chopped coriander for garnish
    •    1 mango (ripe, peeled and chopped for the mango chutney)


Method
Add all the ingredients listed under marinade to a bowl, and combine.

Add prawns to the marinade and set aside. I recommend marinating these for at least half an hour and up to two hours for better flavor.

In the meanwhile, to make the mango chutney, blend mangoes, lemon juice and salt in a blender till pureed. Add the chopped coriander and pulse for 5 seconds till you see bright green specks. Sprinkle with chili flakes if using.

For use oven:
Once the prawns have finished marinating, pre-heat oven to 220 degree celcius.

Skewer the prawns using the equipment provided with your oven, brush them with melted butter and grill for 10-12 minutes. Brush once more at 5 minutes and then right before serving.

For use stovetop:
Alternatively, if you don't have an oven, heat a grill pan on the stove. Add some butter to the pan.

Once hot, arrange prawns on the pan so that they don't overlap and sear on high heat for a minute on either side.

After one minute, reduce the heat to medium and cook for 5 more minutes. Prawns cook pretty quickly so be careful about the cooking time. Brush once more with butter right before serving.

To serve: Sprinkle with chat masala and chopped coriander and serve with the mango chutney.

NOTES:
    •    The cooking time may change by a minute or two depending on the size of prawns.

    •    If you don't have a grill pan for the stove top method, use a regular pan but there won't be any grill marks.

    •    Tandoori Chicken or Prawns are usually red in color due to added food coloring. None of that stuff has been used in this recipe.



This great family recipe is thanks to My Food Story Recipes at https://myfoodstory.com/the-best-tandoori-prawns-recipe/