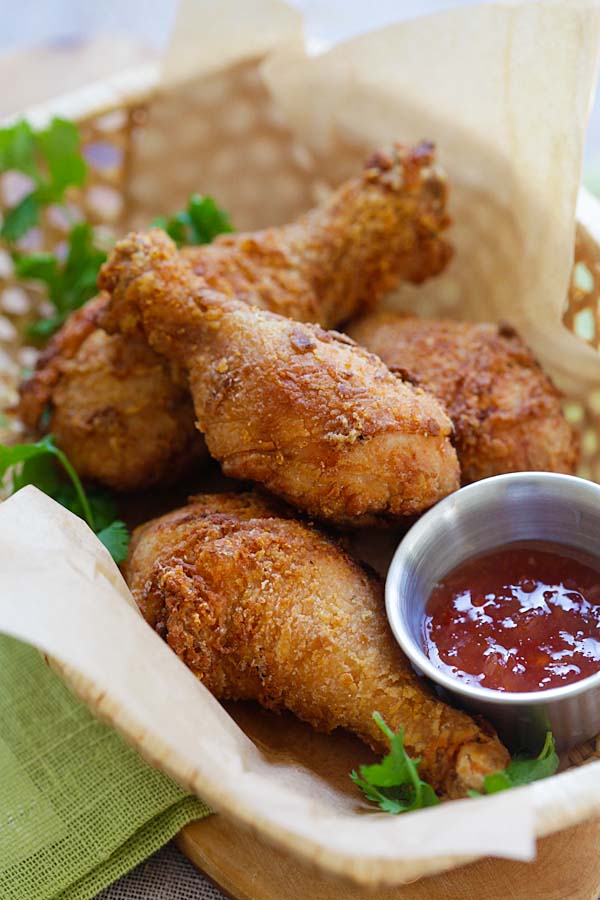 Thai Fried Chicken - the BEST fried chicken recipe ever, marinated with cilantro, garlic and Asian seasonings. Crispy, moist and so good!
Prep Time
    •    Prep time: 15 minutes
    •    Cook time: 15 minutes
    •    Yield: Serves 4


Ingredients
    •    oil for deep-frying
    •    4 tbsps fish sauce
    •    2 tbsps oyster sauce
    •    1/2 tbsp ground black pepper
    •    6 cloves garlic, peeled and pounded
    •    1 tsp sea salt, large-grained or kosher salt
    •    2 tbsps cilantro roots or use the cilantro stems, without leaves
    •    2 lbs chicken, drumsticks, thighs, breasts, or cut-up chicken pieces

For flour mixture:
    •    4 tbsps rice flour
    •    4 tbsps cornstarch
    •    4 tbsps all-purpose flour

Method
Clean the chicken and pat dry with paper towels.
Use a mini food processor or a mortar and pestle to blend the garlic, cilantro roots and salt until they become a fine paste.
Add the paste, fish sauce, oyster sauce, ground black peppper to the chicken and mix well. Transfer the chicken into a big Ziploc bag and marinate for four (4) to six (6) hours in the fridge, or best overnight.
When ready, heat up a pot of cooking oil or use a deep fryer. While waiting for the oil to heat up, mix the three types of flour together in a new Ziploc bag. Add the chicken and coat evenly with the flour mixture. Shake the excess flour off.
Drop the chicken gently into the oil and deep fry the chicken until crispy and golden brown (the inside should cook thoroughly but remains juicy). Transfer the fried chicken out on a plate lined with paper towels to soak up the excess oil.
Serve the fried chicken immediately with Thai sweet chili sauce.


This great family recipe is thanks to RASA MALAYSIA at https://rasamalaysia.com/thai-fried-chicken/