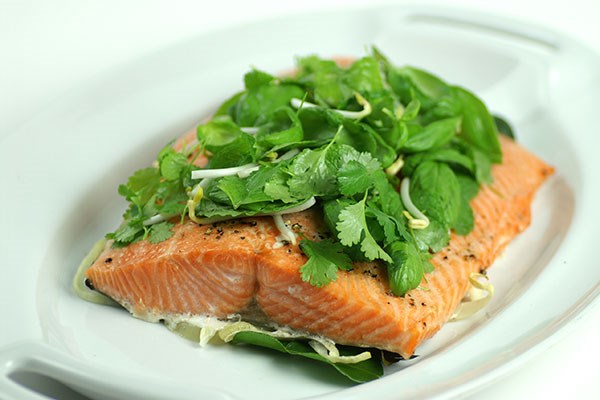 Slow-Roasted Vietnamese Salmon
This is a scrumptiously easy dinner party dish.
Prep Time
    •    Prep time: 5 minutes
    •    Cook time: 25 minutes
    •    Yield: Serves 8

Ingredients
For the salmon:
    •    1 lar onion, sliced
    •    1-1.4kg Salmon, skin-on
    •    6 Kaffir lime leaves, use up to 8 if needed
    •    2-1/2 tbsps avocado oil, garlic infused; I used olivado

For the dressing:
    •    1 tbsp fish sauce
    •    1/2 cup lemon juice
    •    2 1/2 tsps brown sugar
    •    1 1/2 tsp freshly grated ginger

For the salad topping:
    •    1 cup mint leaves
    •    1 cup coriander leaves
    •    1 cup Basil leaves, small
    •    1 cup bean sprouts, tails trimmed

Method
Ensure the salmon is at room temperature before cooking. 

Preheat the oven to 140C. Place the onion and kaffir lime leaves on the base of a roasting pan to make a bed for the salmon.

Place the salmon on the bed tucking in any thin edge so that it cooks evenly. Alternatively, trim off the edge and reserve for soup or stock. Drizzle with the avocado oil and sprinkle with black pepper.

Roast for about 45 minutes, until cooked. 

Meanwhile, whisk together the ingredients for the dressing in a small bowl. Taste to ensure the balance is correct — neither too sour nor too sweet.

Gently combine the salad ingredients.

Remove the salmon from the oven to a serving platter. Lightly toss the salad with a little of the dressing and place on top of the salmon.

Cut into thin steaks to serve. Drizzle with a little more of the dressing.


This great family recipe is thanks to Eat Well at https://www.eatwell.co.nz/recipe/14446/Slowroasted-Vietnamese-salmon/