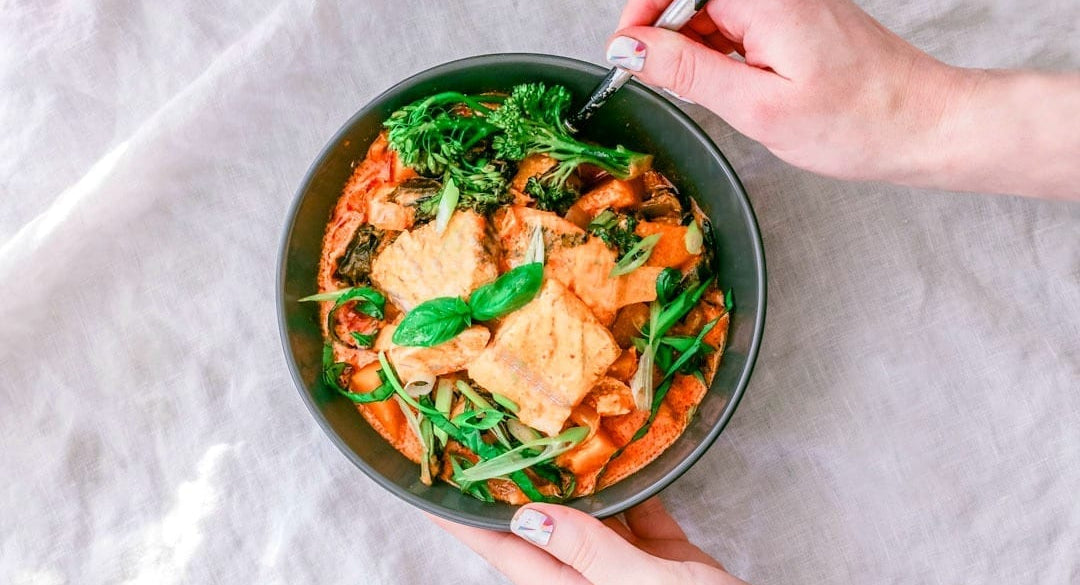 Belly-warming bliss in each bite. Thai Coconut Fish Curry with Kabocha Squash is "silky and slightly spicy".
Prep Time
    •    Prep time: 20 minutes
    •    Cook time: 25 minutes
    •    Yield: Serves 4

Ingredients
    •    kosher salt
    •    lime wedge
    •    2 tbsps cooking oil
    •    1 brown onion, diced
    •    spring onion, thinly sliced
    •    2 x 6 oz barramundi fillets
    •    1 tsp ginger, freshly grated
    •    3 tbsps red Thai curry paste
    •    13.5 oz canned coconut milk
    •    3 cloves minced garlic, minced
    •    1 cup kale packed, roughly chopped
    •    6 ounces baby broccoli, roughly chopped
    •    Thai basil or regular basil leaves, full, torn or ribboned
    •    1 tbsp fish sauce, soy sauce may be used if necessary
    •    1 lime, juiced and zested, zest the lime prior to juicing it
    •    10 ounces kabocha squash diced, about half of a full squash, diced
    •    1 tbsp sambal chili sauce, chili garlic sauce, plus more for more heat if desired

Method
Set the thawed barramundi out on the counter and let it come to room temp. This should take about 15 minutes. Once it reaches room temp, pat dry with a paper towel and cut into 1 x 1-inch cubes; lightly hit with salt and pepper, and set aside.
Heat cooking oil in a large saucepan or braiser over moderate heat. Add the minced onion, garlic, kabocha squash, and fresh ginger. Simmer for approx. 5 minutes or until the garlic is fragrant and the onions are lightly translucent.
Stir in the 3 tablespoons of red Thai curry paste and stir until the veggies are evenly coated.
Add the coconut milk, fish sauce, sambal oelek, lime zest, and lime juice; stir to combine and until the curry paste has dissolved into the liquid. Let the curry simmer for about 15 minutes, or until the squash becomes tender enough to easily pierce with a fork. About 10 minutes into the simmer, add the kale and broccolini (they take less time to cook and you don't want them overcooked).
In the meantime, prepare your rice or other grain as per the package instructions and set aside when done.
Once the squash is tender, add the cubed barramundi and poach it in the liquids for about 5-7 minutes, or until opaque, can flake with a fork, and has an internal temperature of 140-145 degrees F.
Serve over your preferred grains, and garnish with basil, scallions, and a fresh squeeze of lime juice.
This great family recipe is thanks to The Better Fish at https://www.thebetterfish.com/recipe/thai-coconut-fish-curry-with-kabocha-squash/