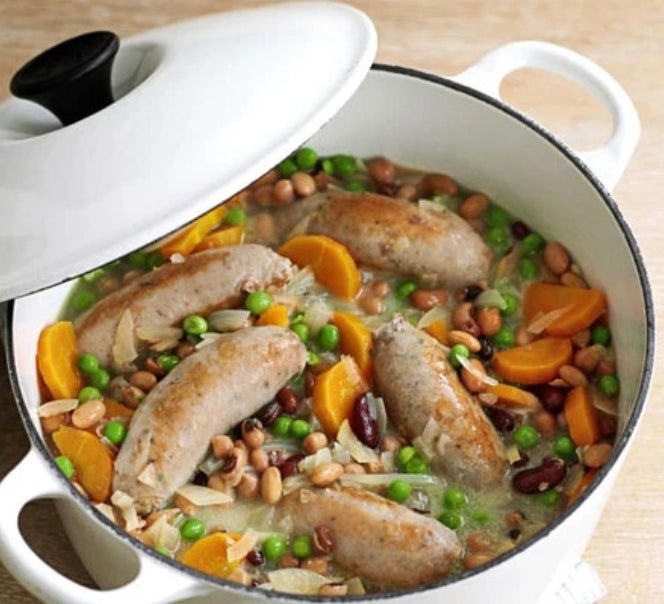 Make sausages go further by cooking them in a simple veg-packed stew - no need for any accompaniments.
Prep Time
    •    Prep time: 10 minutes
    •    Cook time: 30 minutes
    •    Yield: Serves 4

Ingredients
    •    1 tbsp olive oil
    •    100g frozen pea
    •    400ml chicken stock
    •    2 tbsps Dijon mustard
    •    2 tbsps red wine vinegar
    •    2 onions, finely chopped
    •    8 good quality pork sausages
    •    2 carrots, halved lengthways and sliced
    •    2 x 410g cans mixed beans in water, rinsed and drained

Method
Heat the oil in a large pan. Sizzle the sausages for about 6 mins, turning occasionally, until brown on all sides, then remove to a plate. Tip the carrots and onions into the pan, then cook for 8 mins, stirring occasionally, until the onions are soft. Add the vinegar to the pan, then stir in the drained beans. Pour over the stock, nestle the sausages in with the beans, then simmer everything for 10 mins.
Scatter in the frozen peas, cook for 2 mins more until heated through, then take off the heat and stir in the mustard. Season to taste. Serve scooped straight from the pan.
This great family recipe is thanks to BBC Good Food at https://www.bbcgoodfood.com/recipes/bean-bangers-one-pot