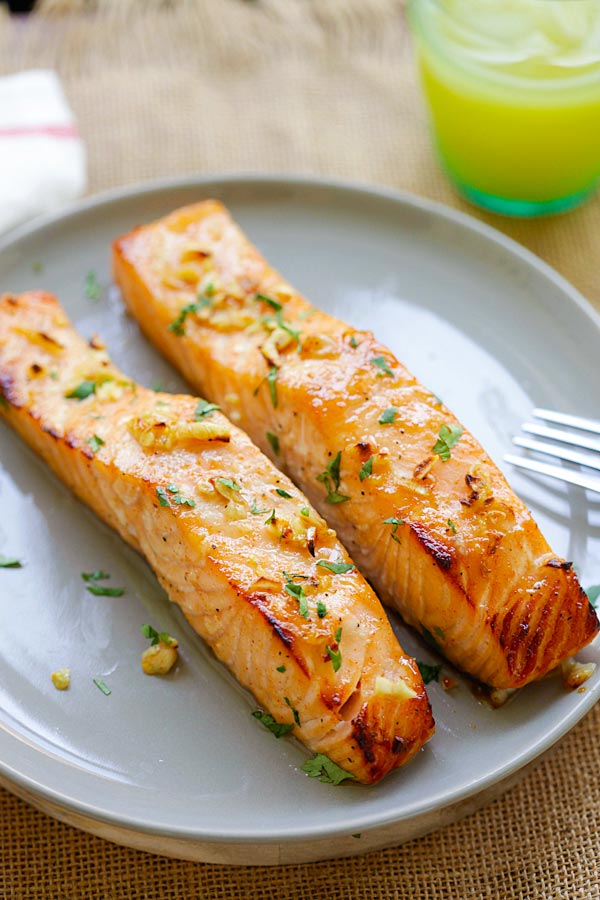 This easy and healthy baked salmon with lemon, garlic and honey mustard is one of the best salmon recipes baked in oven. Tender salmon fillet with 5 mins prep.
This is one of the best and easiest salmon recipes; it makes an absolutely easy and delicious salmon dinner. The salmon is glistening with the honey lemon and garlic marinade.
The fish is tender, juicy and moist and top rated without any fishy smell. This is one of my favourite salmon recipes ever!
Prep Time
    •    Prep time: 10 minutes
    •    Cook time: 12 minutes
    •    Yield: Serves 2

Ingredients
    •    1/8 tsp salt
    •    3 tbsps honey
    •    1 tbsp lemon juice
    •    3 tsps Dijon mustard
    •    1/8 tsp cayenne pepper
    •    12 oz. salmon, cut into 2 fillets
    •    3 dashes ground black pepper
    •    chopped parsley leaves, for garnishing

Method
Preheat oven to 400°F (207°C).
Combine all the ingredients for the Marinade together, whisk to combine well. Marinade the salmon for 15 minutes.
Arrange the salmon on a baking sheet lined with parchment paper or a baking tray. Add the Marinade to the top of the salmon fillets. Bake in the oven for 12 minutes. Remove from heat, scoop the juice and drizzle on top of the salmon. Garnish with the parsley and serve immediately.
This great family recipe is thanks to RASA MALAYSIA at https://rasamalaysia.com/honey-mustard-baked-salmon/