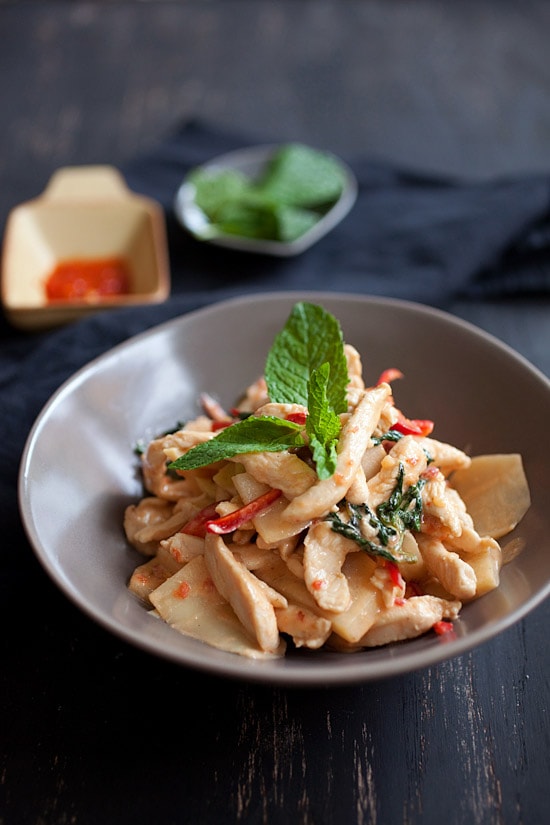 This Thai Chili Chicken recipe is so easy to make and only take 15 minutes to make! When the weather is scorching hot, I like to make myself some mint and lemon tea. I went to the farmers market last week and got a whole bunch of fresh mint.
There were so much mint that I couldn't use up, so I decided to make this Thai Chili Chicken using the leftover mint leaves, a recipe that I adapted from my favorite Thai cookbook "Thai Cooking Made Easy."
Prep Time
    •    Prep and cook time: 20 minutes
    •    Yield: Serves 2

Ingredients
    •    2 tbsps oil
    •    1 squirt lime juice
    •    1 tsp garlic, minced
    •    1 cup fresh mint leaves
    •    1 red chili, sliced into thin strips
    •    6 oz. (170g) chicken breast, cut into strips
    •    1 cup bamboo shoots, sliced into thin pieces

For sauce:
    •    2 tsps chili sauce
    •    2 tbsps fish sauce
    •    1 tsp sugar or to taste

Method
Mix the Sauce ingredients in a small bowl and set aside.
Heat up a wok with cooking oil and add garlic until aromatic.
Add in the chicken and stir-fry for a couple of minutes, add the bamboo shoots, chili, and mint leaves and stir fry until the chicken is cooked.
Add the Sauce and stir evenly. Add a few squirts of lime juice, dish out and serve with steamed rice.
This great family recipe is thanks to RASA MALAYSIA at https://rasamalaysia.com/thai-chili-chicken/