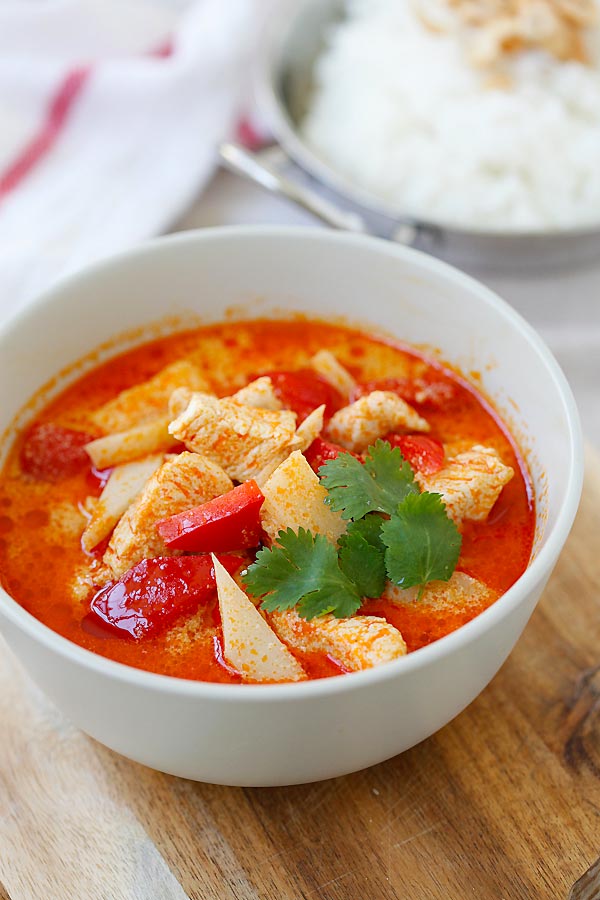 This homemade Thai chicken curry is SO easy to make with simple ingredients and it's so much better and healthier than restaurants!
Prep Time
    •    Prep time: 5 minutes
    •    Cook time: 15 minutes
    •    Yield: Serves 4

Ingredients
    •    1 tbsp oil
    •    1/4 cup water
    •    1/4 tsp fish sauce
    •    2 tsps palm sugar
    •    80 ml coconut milk
    •    1 1/2 tbsps red curry paste
    •    1/2 small red bell pepper, cut into strips
    •    3 oz. (about 85 g) canned bamboo shoots
    •    8 oz. (about 226 g) boneless and skinless chicken breast, cut into strips

Method: Heat up a small pot with the cooking oil. Saute the red curry paste until aromatic. Add the chicken into the pot and stir well with the curry paste. Add the coconut milk, water, long beans, bamboo shoots, red bell pepper and bring the curry to boil, about 5 minutes. Add fish sauce, palm sugar, and let boil for another minute or so, dish out and serve immediately with steamed jasmine rice.
This great family recipe is thanks to RASA MALAYSIA at https://rasamalaysia.com/thai-chicken-curry-with-bamboo-shoots/