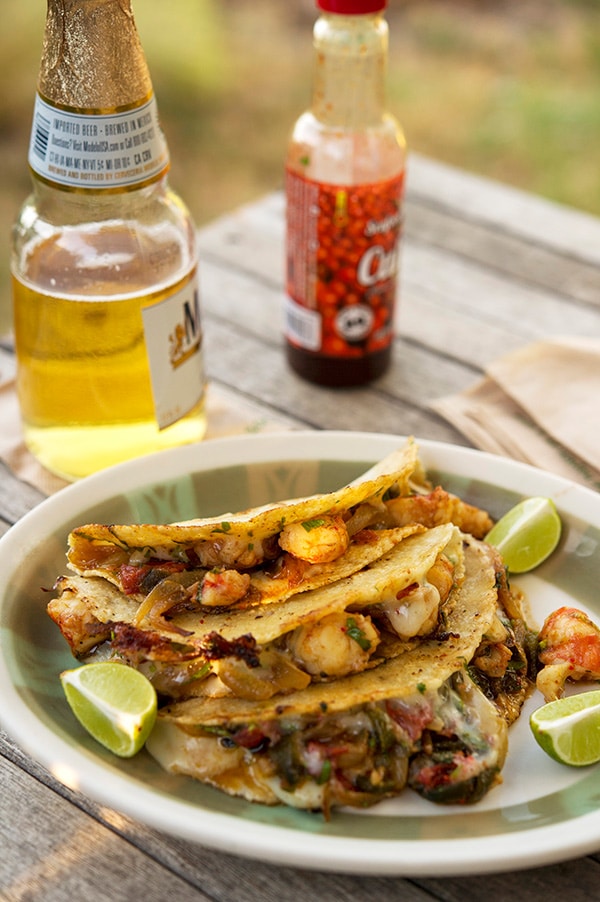 If you are looking for make-ahead tips, the poblanos can be roasted and sliced a day or three beforehand, and the filling mix can be cooked ahead of time, although the shrimp will get a bit overcooked if you reheat it.
Prep Time
    •    Prep time: 45 minutes
    •    Cook time: 20 minutes
    •    Yield: Serves 4

Ingredients
    •    salt
    •    corn tortillas
    •    2 cloves garlic, minced
    •    1 white onion, sliced thin
    •    2 tbsps chopped cilantro
    •    2 tbsps butter, lard or olive oil
    •    1/2 pound shredded melty cheese
    •    1/2 tsp Mexican oregano (Optional)
    •    2 Roma tomatoes, seeded and diced
    •    4 small, hot chiles, chopped (Optional)
    •    1 pound peeled shrimp, cut into bite-sized pieces
    •    2 poblano chiles, skinned, seeded and cut into strips

Method
Roast the poblanos and set them in a plastic bag to steam the skins off. Skin, then remove the tops and all the seeds. Slice them into strips crosswise. You can dice them if you prefer.

Heat the butter in a large pan over medium-high heat. Add the onions and saute until wilted, about 3 to 5 minutes. Add the garlic, chiles if using, diced tomato, shrimp, oregano and salt and toss to combine. Saute until the shrimp turns pink, about 3 to 4 minutes. Mix in the cilantro and turn off the heat.

Heat tortillas on a comal, griddle or large frying pan, or on a grill. Set the tortilla down, then add a generous portion of shredded cheese on it. As soon as the cheese starts to melt, spoon some filling into the center and fold the taco over. Press down with a spatula to set the taco, let it char just a bit on that first side, then flip to brown the other side. Serve at once.
This great family recipe is thanks to Honest-Food.Net at https://honest-food.net/tacos-gobernador-shrimp-tacos/