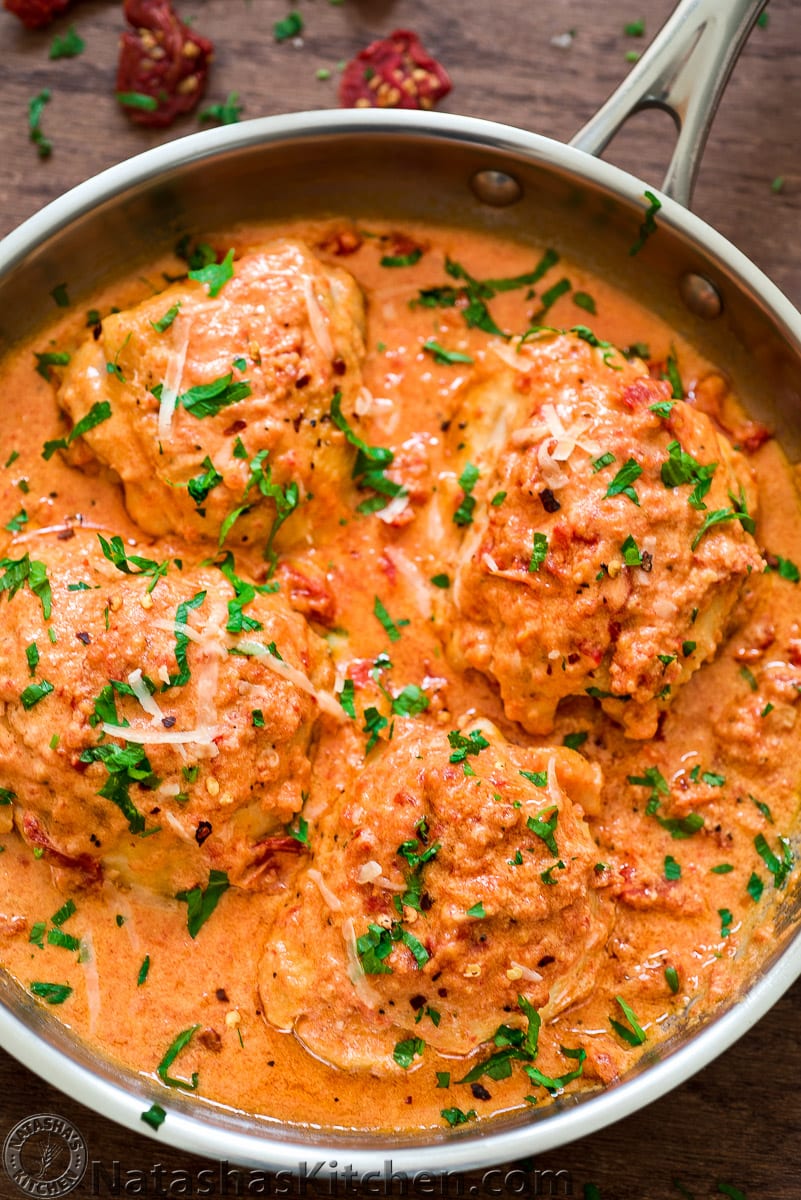 This one-pan Sun-Dried Tomato Chicken is quick, easy, and tossed in an incredibly creamy and delicious sun-dried tomato sauce. Serve it with your favorite vegetables, grains, or pasta.
Prep Time
    •    Prep time: 10 minutes
    •    Cook time: 25 minutes
    •    Yield: Serves 4
Ingredients
    •    1/2 tsp salt
    •    3/4 cup water
    •    1/2 tsp pepper
    •    2 tbsps olive oil
    •    3 oz. sun-dried tomatoes
    •    1 tbsp fresh parsley to garnish
    •    1 cup half & half or heavy cream
    •    1 cup parmesan cheese shredded
    •    2 lbs. chicken thighs (skin-on, boneless)
Method
Place the sun-dried tomatoes and water in a blender or smoothie cup and process for 60-90 seconds, until it resembles tomato sauce.


Heat the oil in a skillet over medium-high heat. Place the chicken in the skillet, skin side down. Cook for 5 minutes, until deep golden brown and crispy.


Flip the chicken and fry for an additional 5 minutes. Reduce the heat to medium-low and remove the chicken from the skillet.


To the same skillet, add the sun-dried tomato mixture. Cook for about 3-4 minutes. Add the cream, Parmesan cheese, salt, pepper, and red pepper flakes. Stir.


Reduce the heat to low, so the sauce is simmering gently. Return the chicken to the skillet and cook it for an additional 10-15 minutes, until cooked through. Add a little water to the sauce, if needed. Garnish with freshly chopped parsley. Serve.


This great family recipe is thanks to Natasha's Kitchen Recipes at https://natashaskitchen.com/sun-dried-tomato-chicken-recipe/