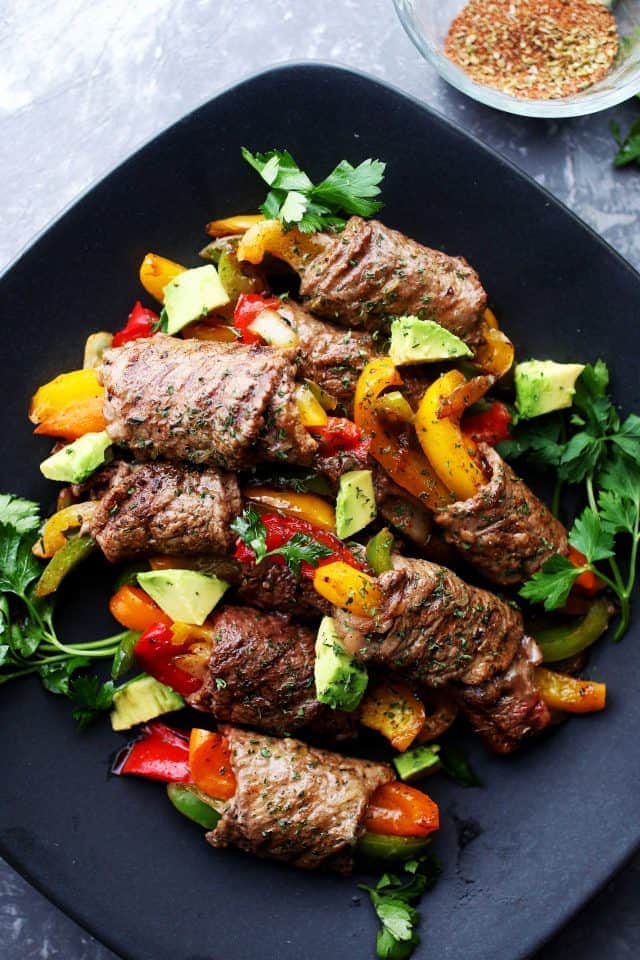 This Steak Fajita Roll-Ups - ditch the flour tortillas and make this amazing low-carb version of your favorite steak fajitas! An easy and delicious sirloin steak recipe with a homemade fajitas seasoning mix!
Prep Time
    •    Prep time: 20 minutes
    •    Cook time: 10 minutes
    •    Yield: Serves 16

Ingredients
    •    1 lime, juiced
    •    1 tbsp olive oil, divided
    •    1 large yellow onion, sliced
    •    chopped fresh parsley or cilantro
    •    homemade Fajitas seasoning mix
    •    1 pound thinly sliced sirloin tip steak
    •    3 colored bell peppers cut into thin strips
    •    prepared Guacamole for serving (Optional)

Method
Prepare the fajitas seasoning mix and set aside.
Cut the steak into 2-inch wide by 6-inch long strips.
Rub the steak strips with some of the prepared seasoning mix and set aside.
Heat olive oil in a grill pan over medium-high heat and add pepper strips and sliced onions to the grill pan; season with salt, pepper, and a sprinkle of the fajitas seasoning mix.
Cook for about 4 to 5 minutes, or until tender.
Remove from heat and let cool for a minute.
Top each slice of steak with the vegetables; roll up and secure with a toothpick.

Add remaining olive oil to the grill pan; heat it up and add the roll-ups to the pan.

Cook until browned, about 2 to 3 minutes per side.

Remove from heat, remove toothpicks, and transfer to a serving plate.

Squeeze lime juice over the roll ups and garnish with chopped parsley or cilantro. Serve with prepared guacamole.
This great family recipe is thanks to Diethood at https://diethood.com/steak-fajita-roll-ups/