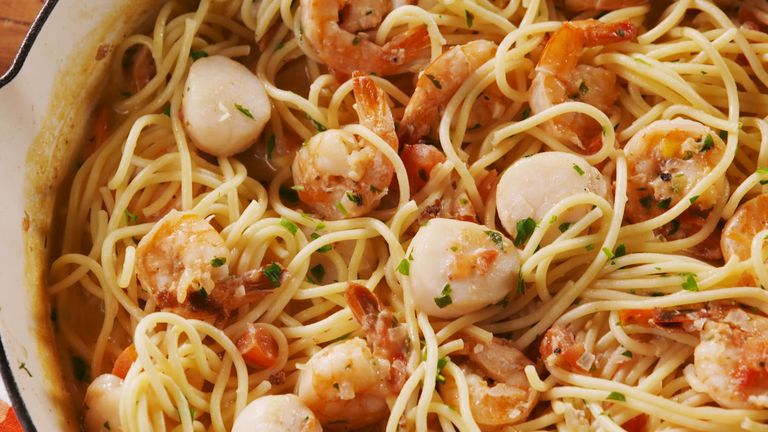 This is not your ordinary weeknight pasta. It's a special occasion pasta. This is the type of pasta you make for someone and they immediately pull out their phones to start taking pictures. Seafood Pasta is the perfect way to impress your friends and family and its actually really easily.
Prep Time
    •    Prep time: 5 minutes
    •    Cook time: 25 minutes
    •    Yield: Serves 4

Ingredients
    •    kosher salt
    •    3/4 cup milk
    •    2 tbsps butter
    •    12 oz. spaghetti
    •    juice of 1/2 lemon
    •    3 cloves garlic, minced
    •    1 small shallots, minced
    •    1 cup chopped tomatoes
    •    1/2 lb. scallops, patted dry
    •    freshly ground black pepper
    •    1/2 lb. prawns, peeled and deveined
    •    3/4 cup low-sodium chicken or vegetable broth
    •    1/4 cup freshly chopped parsley, plus more for garnish
    •    1/2 cup freshly grated Parmesan, plus more for serving

Method
In a large pot of salted boiling water, cook spaghetti according to package directions until al dente. Drain and return to pot.
Meanwhile, in a large skillet over medium heat, melt butter. Add shrimp and scallops and season with salt and pepper. Cook 2 minutes per side, then transfer to a plate.
To skillet add shallot and garlic cook until soft and fragrant, 3 minutes. Add milk, broth, Parmesan, tomatoes, and parsley and season with salt. Simmer 3 minutes more, then return shrimp and scallops and toss until combined. Squeeze with lemon juice.
Add cooked spaghetti and toss until fully coated.
Garnish with parsley and serve with Parmesan.
This great family recipe is thanks to delish at https://www.delish.com/cooking/recipe-ideas/a22668142/seafood-pasta-recipe/