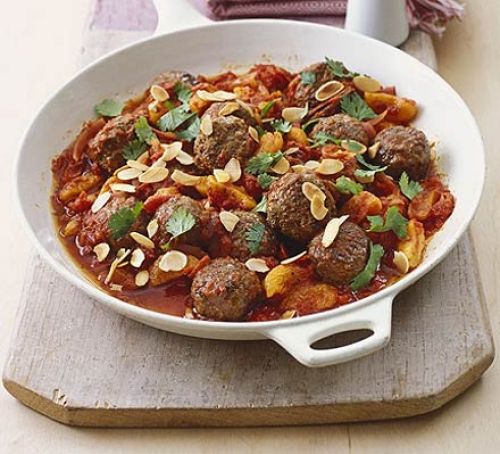 Speedy Moroccan Meatballs
A great twist on meatballs for a quick and tasty supper.
Prep Time
    •    Prep time: 5 minutes
    •    Cook time: 15 minutes
    •    Yield: Serves 4
Ingredients
    •    1 tbsp olive oil
    •    1 large onion, sliced
    •    1 small cinnamon stick
    •    100g dried apricot, halved
    •    25g toasted flaked almond
    •    handful coriander, roughly chopped
    •    400g tin chopped tomato with garlic
    •    350g pack ready-made beef or chicken meatballs (approx 16)
Method
Heat the oil in a large deep frying pan, then fry the meatballs for 10 mins, turning occasionally until cooked through. Scoop out of the pan and set aside, then cook the onion for 5 mins, until softened.
Add the dried apricots, cinnamon stick, tomatoes and half a can of water to the pan, then bring to the boil and simmer for 10 mins. Remove the cinnamon stick. Return the meatballs to the pan and coat well with the tomato sauce. Serve sprinkled with the almonds and coriander.


This great family recipe is thanks to BBC Goodfood Recipes at https://www.bbcgoodfood.com/recipes/2998/speedy-moroccan-meatballs