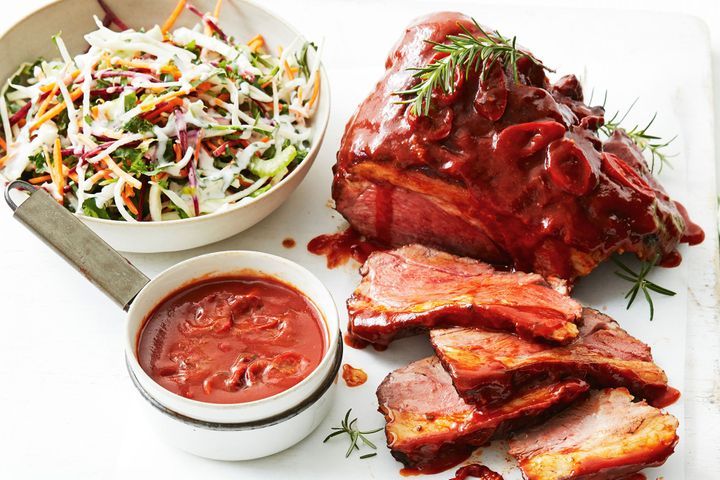 Crunchy kaleslaw compliments the rich, smoky flavours of this tender, barbecued lamb.
Prep Time
    •    Prep time: 15 minutes
    •    Cook time: 30 minutes
    •    Yield: Serves 4

Ingredients
    •    2 tbsps olive oil
    •    2 tsps smoked paprika
    •    2 garlic cloves, crushed
    •    rosemary sprigs, to serve
    •    1 tbsp chopped rosemary
    •    1/2 cup (125ml) beef stock
    •    1 long red chilli, thinly sliced
    •    1 tbsp Worcestershire sauce
    •    800g lamb boneless leg roast
    •    350g package Coles Kaleslaw Kit
    •    420g can Heinz Big Red Condensed Tomato Soup

Method
Combine the soup, stock, chilli, chopped rosemary, Worcestershire sauce, half the paprika and half the garlic in a small saucepan over medium-high heat. Bring to the boil. Reduce heat to low and simmer, uncovered, for 5-7 mins or until the sauce thickens slightly. Reserve 1/2 cup (125ml) of the sauce.
Meanwhile, heat a covered barbecue on medium. (Alternatively, preheat oven to 200°C.) Untie the lamb. Combine

oil

and the remaining paprika and garlic in a bowl. Rub over lamb. Season. Cook on barbecue grill for 2-3 mins each side or until browned.
Transfer lamb to a disposable baking dish. Brush all over with half the remaining sauce. Roast, turning and basting with the remaining sauce halfway through cooking, in covered barbecue using indirect heat for 8-10 mins each side or until cooked to your liking. (Alternatively, cook in oven.) Transfer to a plate and cover with foil. Set aside for 5 mins to rest.
Prepare the kaleslaw following packet directions. Reheat the reserved sauce in a saucepan over low heat. Slice lamb and arrange on a serving platter. Drizzle with reserved sauce. Top with rosemary sprigs. Serve with the kaleslaw.
This great family recipe is thanks to Taste at https://www.taste.com.au/recipes/smoky-tomato-leg-lamb/8qzH0DYP