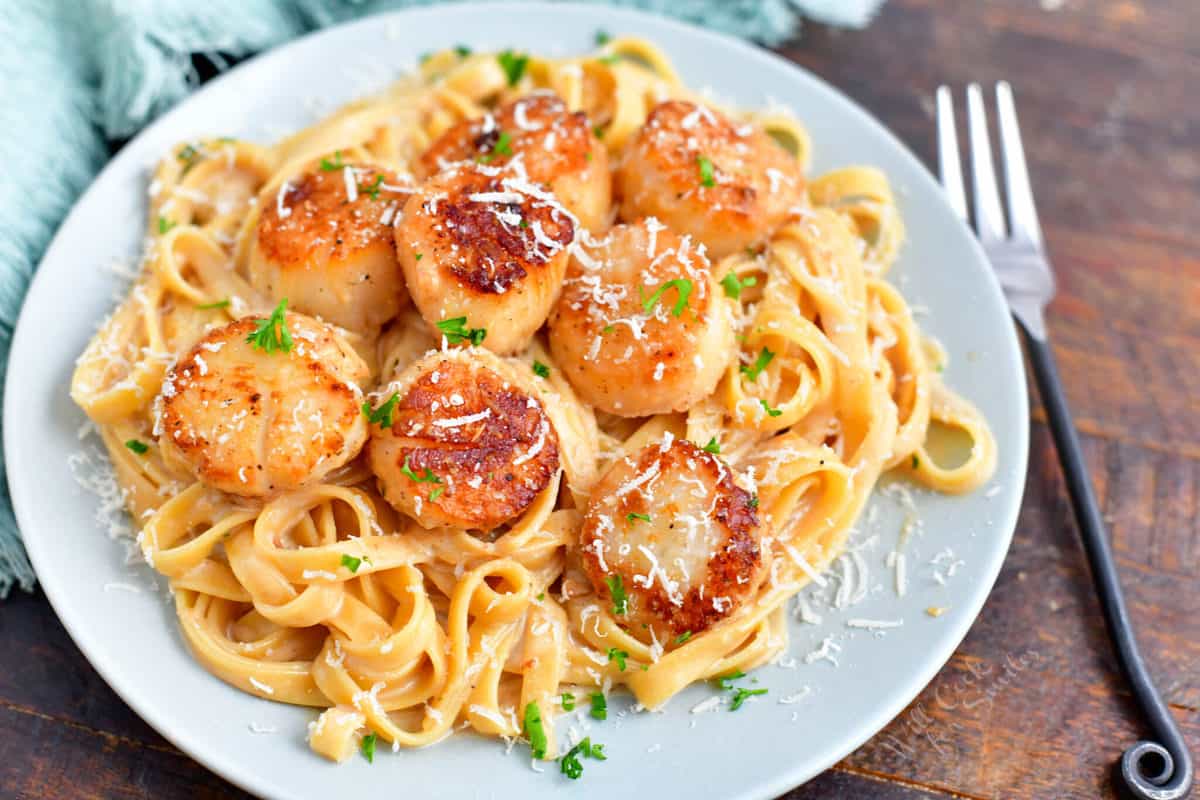 Scallop Recipe with Cream Sauce
Easy scallops recipe with a rich and creamy Parmesan sauce is served over a bed of pasta. These scallops are seared until there are perfectly cooked with a golden crust, and then cook the sauce in the same pan and toss it with your favourite pasta. Make it for dinner tonight in under 30 minutes!
Although scallops cost more on average than a lot of other seafood, the cost of buying them and cooking at home is way less than at the restaurants. You will need just a few other pantry staples to turn them into a luxurious and delicious meal.
Pasta is a perfect pairing for this creamy scallops recipe because the sauce is very close to an Alfredo sauce. It's like a Scallops Alfredo but with a bright addition of garlic. Don't forget to finish it with some freshly grated Parmesan cheese!
Prep Time
    •    Prep time: 5 minutes
    •    Cook time: 20 minutes
    •    Yield: Serves 2

Ingredients
    •    2 tbsps canola oil
    •    1 lb. sea scallops (dry)
    •    fresh cracked black pepper
    •    sea salt or kosher coarse salt

For sauce:
    •    salt to taste
    •    3 tbsps stock
    •    3 garlic cloves
    •    2 tbsps unsalted butter
    •    1 cup heavy whipping cream
    •    3/4 cup fresh grated Parmesan cheese

For pasta:
    •    1/2 lb. fettuccine or any other favourite pasta you like

Method
Start cooking pasta according to the package instructions, if you're serving these scallops with pasta. Cook it at the same time as scallops and sauce, strain, and set aside.

Prepare for scallops:
Preheat a cooking pan first over medium-high heat. Add olive oil and let it heat through until you start to see a little smoke (it should take less than a minute).

Season scallops with salt and pepper on both sides right before adding the pan.

Place scallops into the skillet but leave some room in between each one. To ensure a nice sear, don't overcrowd them.

Do not move or touch them until ready to flip.

Sear scallops for about 2 minutes (a few seconds more or a few seconds less depending on the size). Flip each on in the same order as you put them in and sear another 2 minutes.

Take scallops out of the pan and set aside while preparing the sauce.

Prepare for the sauce:
Turn the heat down to medium and melt butter in the same pan where you cooked the scallops.

Add pressed garlic and let it sear for a couple of seconds, until fragrant.

Pour in stock and deglaze the pan by scraping the bottom of the pan.

Pour in heavy whipping cream and slowly stir to mix. Let it heat through for a minute or two.

Stir in grated Parmesan cheese and taste to see if you need more salt.

Gently and slowly stir the sauce at it heats through and comes to a simmer. Let is gently simmer for a couple of minutes to thicken. Once sauce is thickened, add scallops back just enough to heat them up and take off heat.

If you're making this dish with pasta, you can toss pasta with sauce or pour the sauce over the pasta. (Tossing will coat pasta much more evenly though.)
This great family recipe is thanks to Will Cook For Smiles at https://www.willcookforsmiles.com/scallop-recipe-with-cream-sauce/