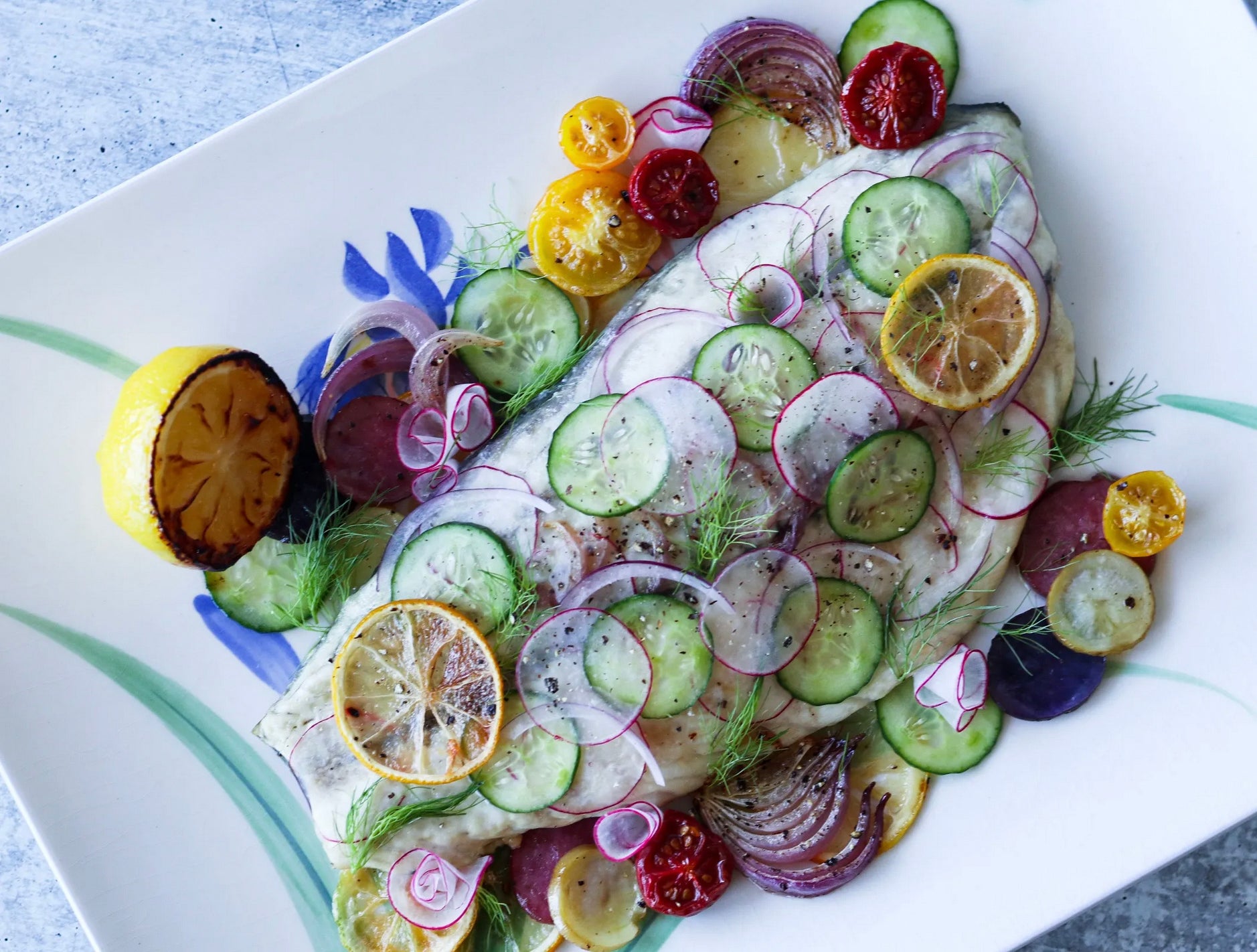 Quick Slow-roasted Barramundi
This recipe is so simple, and I just know I'm going to be calling on this one again when the holidays roll around. Just swap out the summer produce for the winter's best. It's HOT right now, and this dish is so light and inviting for summer. But I'm definitely fantasizing about cooler temperatures, and making this with roasted sweet potatoes, butternut squash, brussels sprouts and pops of color from pomegranate arils. Oooh and maybe some winter citrus like Cara Cara oranges, kumquats and Meyer lemon. Yum. But first, back to this dish.
Prep Time
    •    Prep time: 15 minutes
    •    Cook time: 35 minutes
    •    Yield: Serves 2
Ingredients
    •    2 lemons
    •    1/2 small red onion
    •    1 medium red radish
    •    12 oz cherry tomatoes
    •    1 medium mini cucumber
    •    3 medium fingerling potatoes
    •    3 lbs barramundi (2 large fillets)
    •    olive oil, salt and pepper to taste
    •    fennel fronds and other herbs (Optional)
Method
Wash and dry all produce, remove visible eyes from potatoes. Pat dry barramundi and season lightly with salt and pepper.
Preheat oven to 300F for at least 15 minutes, and line a large sheet pan with parchment paper (foil or a silpat also work)
Thinly slice potatoes into rounds (can use a mandoline or sharp knife), and arrange in a single layer on the sheet pan.
Halve tomatoes and arrange cut side up on the sheet pan.
Thinly slice one lemon into rounds, remove any seeds, and add lemon rounds to the sheet pan. Halve the other lemon width-wise and set aside.
Slice the red onion into thin wedges, slicing along the shorter end, and add to sheet pan.
Drizzle olive oil and season salt and pepper over entire sheet pan. If it becomes crowded, shift some of the contents to a second sheet pan.
Add the barramundi filets, skin side down, to the sheet pan. Drizzle with olive oil (or olive oil spray), and roast low-and-slow for 30-35 minutes total, rotating the pan 180-degrees half-way through. Cook until an instant-read thermometer reads 145F degrees.
While the barramundi cooks, prep the garnishes. Thinly slice the cucumber and radish into rounds. On two large serving platters, place a barramundi filet on each, then evenly divide potatoes, red onions, lemon and tomatoes (use a spoon to pick up the roasted tomatoes) around the fish.
Garnish with cucumbers, radishes, and fennel fronds or herbs, if using.
This great family recipe is thanks to Mind Diet Meals at https://minddietmeals.com/fish/quick-slow-roasted-barramundi-recipe/?utm_campaign=yummly&utm_medium=yummly&utm_source=yummly