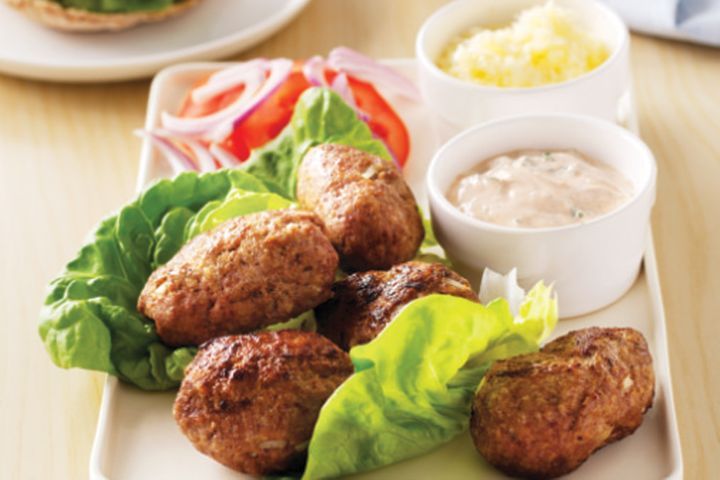 Lamb Souvlaki (lamb mince)
Prep Time
    •    Prep time: 10 minutes
    •    Cook time: 10 minutes
    •    Yield: Serves 4

Ingredients
    •    1 red onion, sliced
    •    4 rounds pita bread
    •    4 butter lettuce leaves
    •    1 medium tomato, halved, sliced
    •    1 quantity basic rissoles, using lamb mince
    •    1 cup (120g) grated tasty cheese (Optional)

For Garlic Sauce:
    •    salt to taste
    •    2 tbsps hot water
    •    2 cloves garlic, crushed
    •    1/4 tsp smoked paprika
    •    1 tbsp chopped fresh. parsley
    •    1/2 cup (140g) Greek-style natural yoghurt

Method
Soak bamboo skewers in water for 20 minutes. Prepare rissole mixture as for Brunch Rissoles recipe. Halve patties and roll each into a sausage shape. Thread two sausages onto each skewer.
Make the garlic sauce by mixing all ingredients together.
Preheat barbeque or grill plate to medium. Cook kebabs for about 3 minutes on each side, or until browned and cooked through. Meanwhile grill pita bread on both sides to warm through.
Layer lettuce, onion, tomato and cheese on pita bread. Top each with a kebab (skewer removed) and drizzle with garlic sauce.
This great family recipe is thanks to Taste at https://www.taste.com.au/recipes/lamb-souvlaki-2/98b482f7-b93e-4fda-9cf5-4cc029865b52