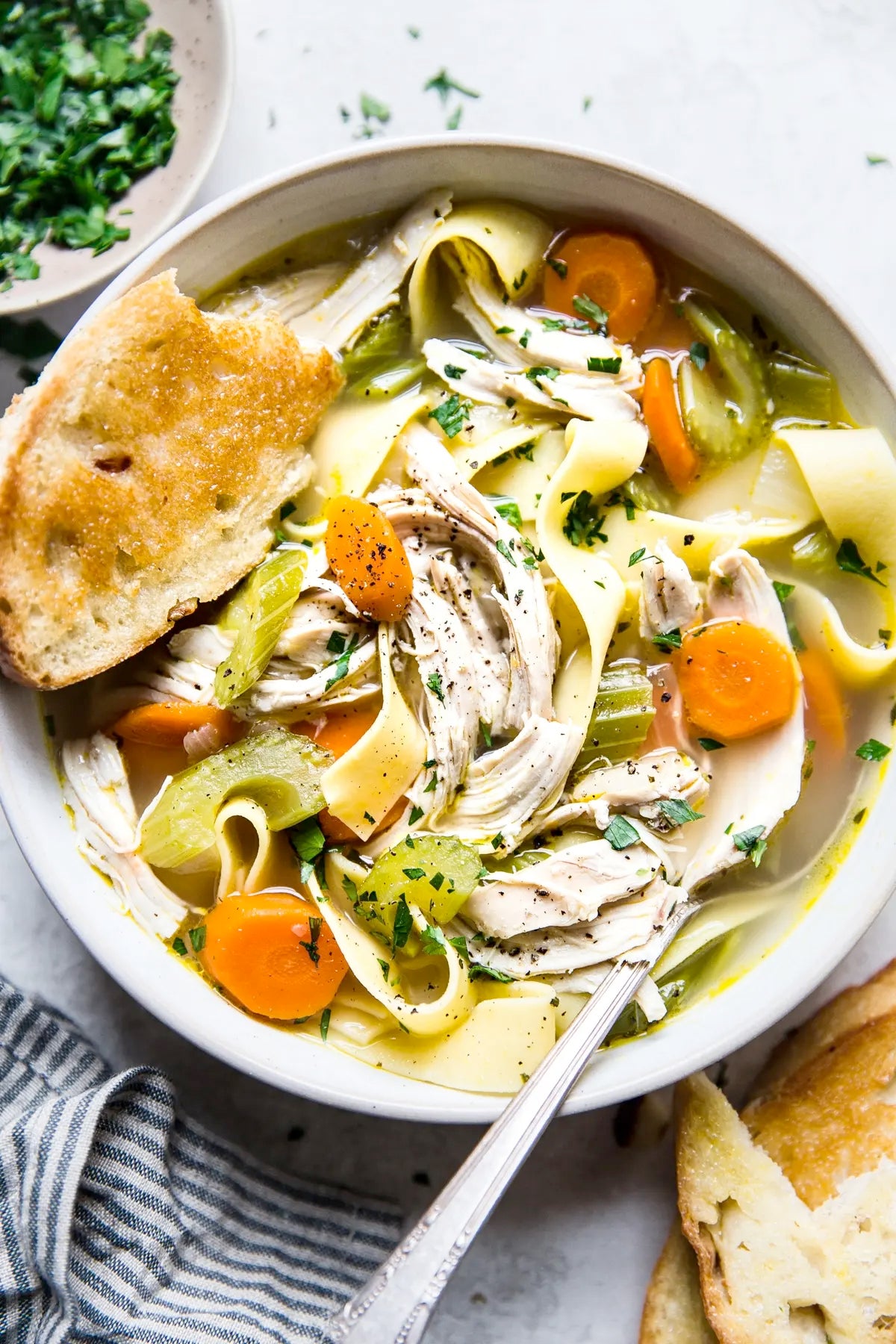 Quick and Easy Chicken Noodle Soup
Once you make this quick and easy chicken noodle soup recipe for yourself, you'll be saying goodbye to the canned stuff for good.
Chicken broth, veggies, some dried herbs, a store-bought rotisserie chicken and some egg noodles are all it takes to feed your family a meal full of flavor, nutrition and love. Yeah, you got this!
Prep Time
    •    Prep time: 15 minutes
    •    Cook time: 35 minutes
    •    Yield: Serves 6

Ingredients
    •    2 bay leaves
    •    1 tsp sea salt
    •    8 oz egg noodles
    •    8 cups chicken stock
    •    4 cloves garlic, minced
    •    1 tbsp olive oil or butter
    •    1 tbsp minced, flat leaf parsley
    •    2 ribs of celery, 1/2 inch chopped
    •    2 - 3 cups cooked shredded chicken
    •    1/4 tsp fresh cracked black pepper to taste
    •    1 small yellow onion, chopped about 3/4 cup
    •    1 - 2 large carrots, peeled, 1/2 inch sliced about 1 1/2 cups

Method
In a large (6 quart) soup pot or dutch oven, heat the butter or olive oil over medium heat. When the oil is glistening, add the onion, celery and carrots and cook, stirring often, until the onions are translucent, about 5 minutes. Add garlic and cook for 1 minute longer.
Add the chicken stock and bay leaves. Bring to a boil over high heat. Reduce heat to medium and cook until the vegetables are nearly tender, about 10 minutes longer.
Add the chicken, egg noodles, parsley, salt and pepper. Bring to heavy simmer. Place a lid on the pot to keep the liquid from evaporating. Maintain a low boil/heavy simmer until the noodles are tender and the chicken is warmed through, about 10 minutes longer.
This great family recipe is thanks to The Modern Proper at https://themodernproper.com/quick-and-easy-chicken-noodle-soup