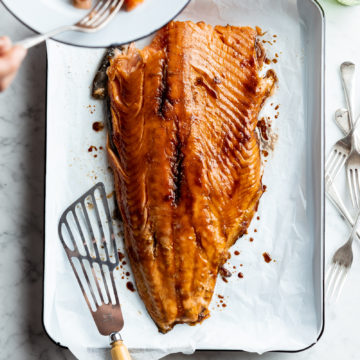 Easy way to feed the whole family! Sticky and sweet, dress it up with your favourite salads and sides and you've got yourself a fantastic table centerpiece!
Prep Time
    •    Prep time: 10 minutes
    •    Cook time: 25 minutes
    •    Yield: Serves 4 - 6

Ingredients
    •    1 tsp salt
    •    juice of 1 lime
    •    2 cloves garlic
    •    2 tbsps olive oil
    •    1 tsp ground coriander
    •    10g palm sugar, grated
    •    1 cup micro herbs to serve
    •    1kg Fresh Huon Salmon Fillet
    •    1/4 cup spring onion, chopped
    •    2 tbsps Kecap Manis (sweet soy sauce)

Method
Mix all sauce ingredients (excluding micro herbs) together in a bowl.
Use a pastry brush to paint glaze on the salmon.
Bake in oven at 180°C.
After 10 minutes remove from oven and paint again with glaze and return to oven for another 15 minutes.
When cooked paint one final glaze, top with micro herbs and serve.
This great family recipe is thanks to Huon Aqua at https://www.huonaqua.com.au/recipes/glazed-roast-huon-salmon/