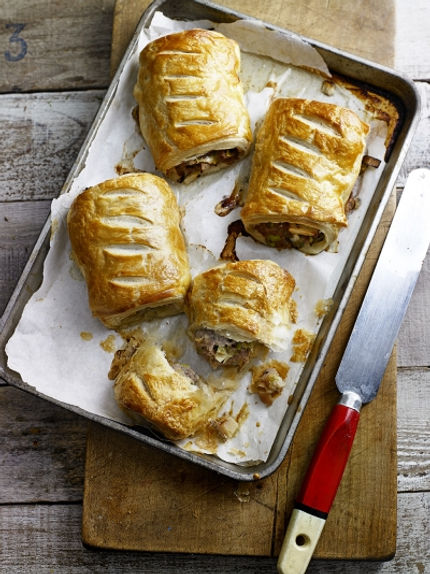 Pork and Apple Sausage Rolls
Prep Time
    •    Prep and cook time: 30 minutes
    •    Yield: Serves 6
Ingredients
    •    1 leek
    •    500g puff pastry
    •    1 royal gala apple
    •    500g minced pork
    •    1 large free-range egg
    •    1/2 tsp mustard seeds
    •    4 sprigs of fresh thyme
Method
Preheat the oven to 200°C/400°F/gas 6.


Wash, trim and dice the leek, core and dice the apple, then pick the thyme leaves.


Combine the pork, leek, apple, thyme leaves and mustard seeds in a bowl. Season and set aside.


Roll out the pastry to 1cm thick and 34cm x 30cm. Halve lengthways and place a strip of mince down the centre of each.


Brush the edges with beaten egg, roll up and seal. Brush with more egg, then cut each strip into 3 rolls.


Score the tops and bake for 20 minutes, or until golden and cooked through.


This great family recipe is thanks to Jamie Oliver Recipes at https://www.jamieoliver.com/recipes/pork-recipes/pork-apple-sausage-rolls/