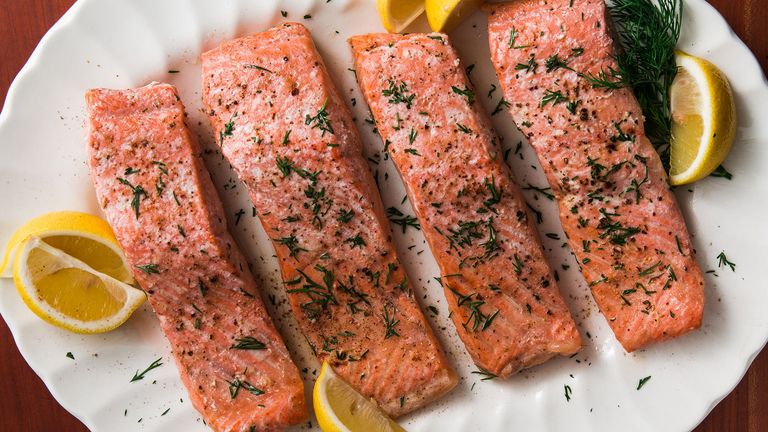 Poached Salmon sounds nice and fancy but it's actually one of the easiest ways to cook salmon. It comes out perfect and tender every single time.
Prep Time
    •    Prep time: 5 minutes
    •    Cook time: 15 minutes
    •    Yield: Serves 4

Ingredients
    •    kosher salt
    •    1 cup water
    •    1 cup dry white wine
    •    3 cloves garlic, smashed
    •    lemon wedges, for serving
    •    freshly ground black pepper
    •    4 x 6 oz. skinless salmon fillets
    •    few sprigs fresh dill, plus more for serving

Method
Season salmon on both sides with salt and pepper. In a shallow pan over medium heat, bring wine, water, dill, and garlic cloves to a boil then reduce heat to a simmer. Add salmon fillets and let simmer, covered, until cooked through, 10 minutes. Remove salmon carefully with a fish spatula or large slotted spoon.
Serve with fresh dill and lemon wedges.
This great family recipe is thanks to Delish at https://www.delish.com/cooking/recipe-ideas/a22108148/easy-poached-salmon-recipe/