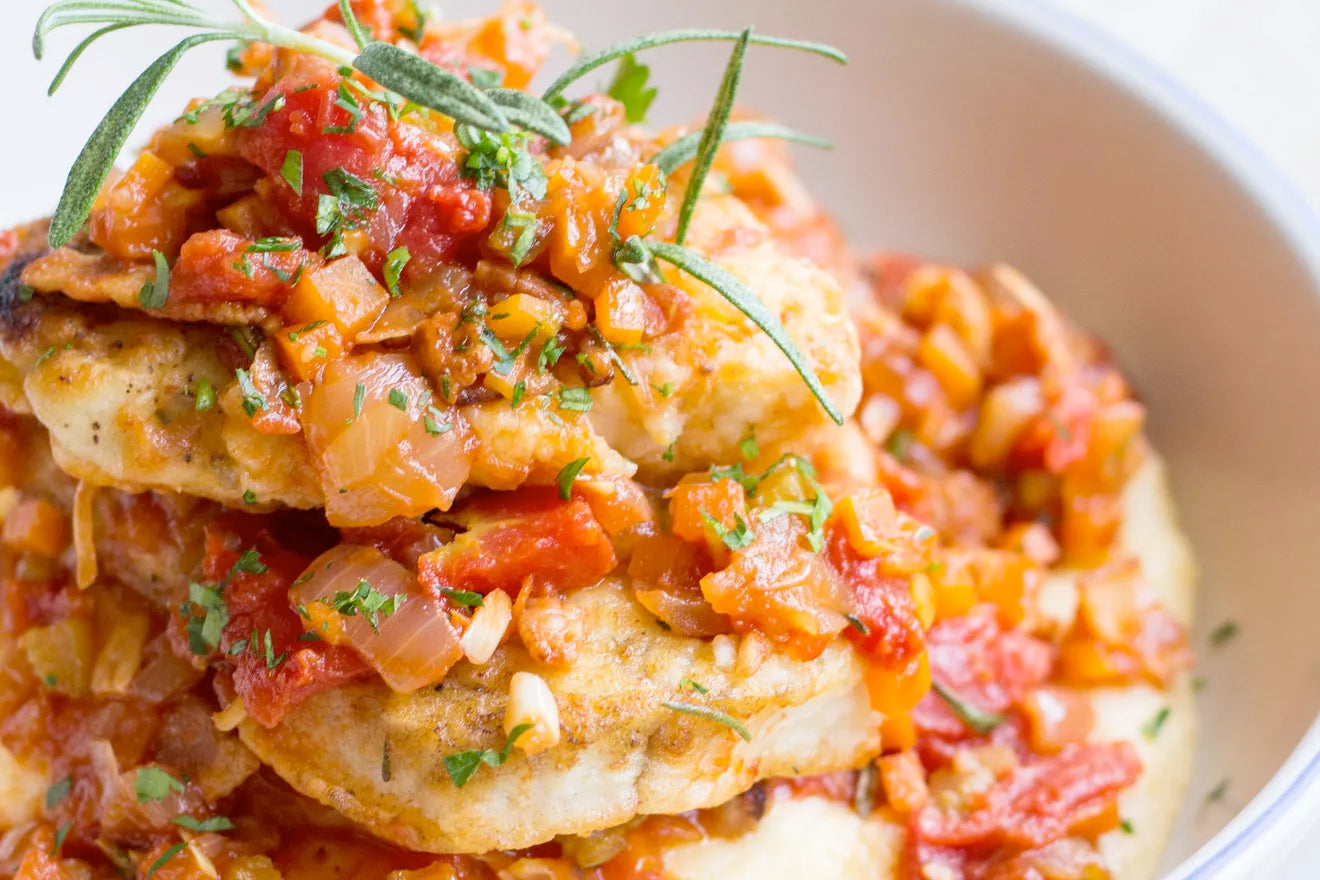 Prep Time
    •    Prep and cook time: 1 hour
    •    Yield: Serves 4

Ingredients
    •    salt and black pepper
    •    1/2 cup dry white wine
    •    1 tbsp canola or olive oil
    •    1 large yellow onion, diced
    •    1 celery ribs, peeled and diced
    •    10 whole garlic cloves, unpeeled
    •    3 medium carrots, peeled and diced
    •    1 14.5 oz can diced tomatoes, drained
    •    4 trips of bacon, cut into 1/2 inch pieces
    •    2 tbsps finely minced rosemary or thyme
    •    all-purpose flour for dredging barramundi
    •    2 pound barramundi fillets, cut into 1/2 inch pieces

Method
Preheat the oven to 250F.

Set a large skillet over medium heat. Add the bacon in one layer and cook stirring occasionally until nicely browned and the fat is rendered, 5-8 minutes.

Add onion, carrots, celery, whole garlic cloves, and a generous pinch of salt. Cook over medium heat, stirring occasionally, until the vegetables are tender and golden brown, 10-12 minutes.

Add the herbs, tomatoes, and wine. Bring to a boil. Cover, reduce heat to low, and simmer for 15 minutes. While the sauce is cooking, prepare the barramundi.

Dry barramundi well on paper towels. Season it all over with salt and pepper, and dredge in flour, shaking off access.

Set a large non-stick or cast-iron skillet over high heat. When hot, add the oil and swirl the skillet to coat. Place the fish in the pan without crowding and cook on all sides until golden brown (1-2 minutes per side). Remove barramundi from the pan and set aside.

Taste the sauce and correct seasoning. Place barramundi in the pan with the sauce and spoon the sauce on top of it. Cover the skillet and place in the oven for about 18 minutes per inch of thickness. Start testing for doneness 5 minutes before the estimated cooking time is up. The fish is done when it's at 140F.

Serve immediately with the sauce and some good crusty bread for dipping. Mashed potatoes are also quite heavenly with this dish.
This great family recipe is thanks to FOOD52 at https://food52.com/recipes/47133-barramundi-osso-buco