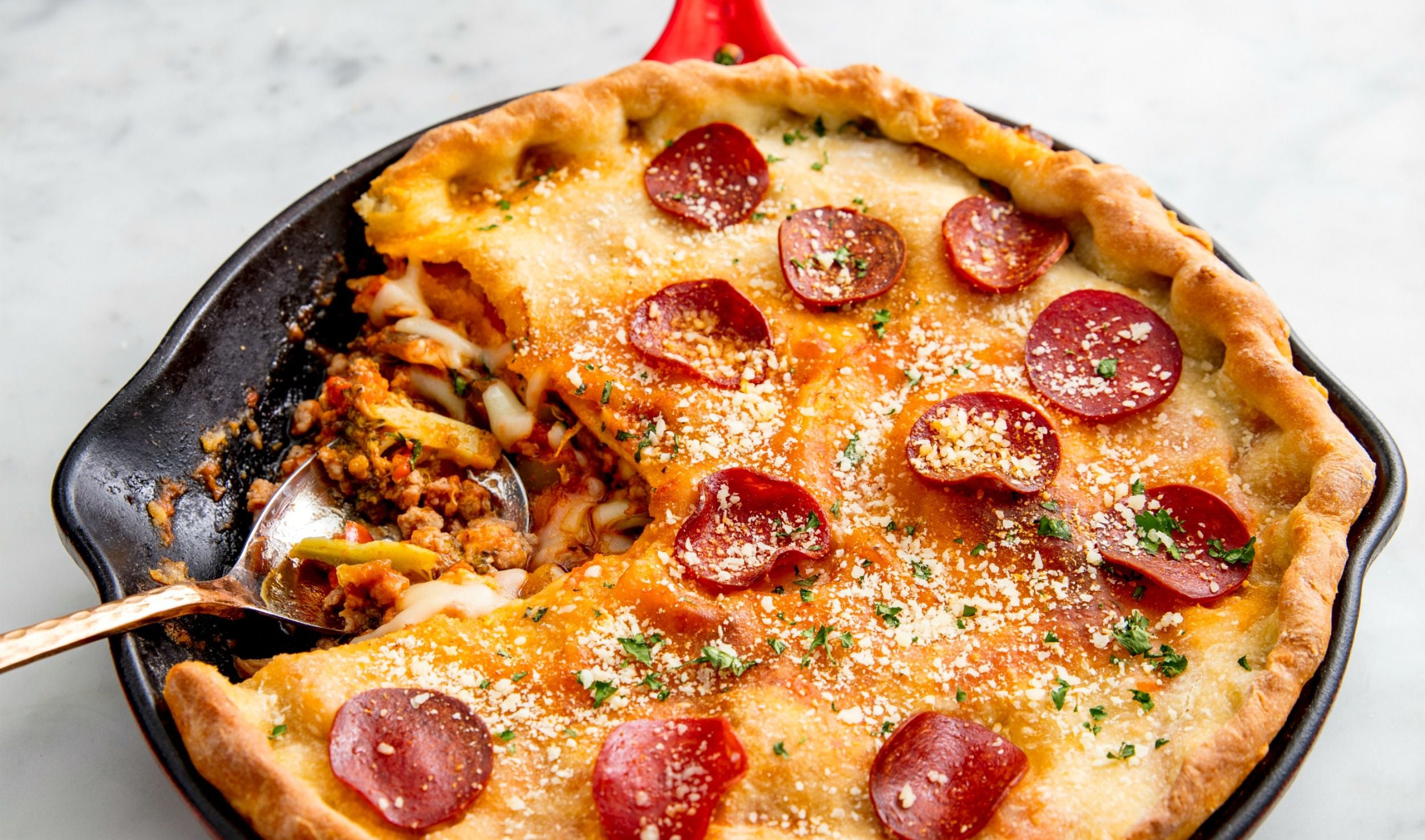 Pizza pot pie is the truly genius mash-up of your dreams.
Prep Time
    •    Prep time: 15 minutes
    •    Cook time: 55 minutes
    •    Yield: Serves 4

Ingredients
    •    2 tbsp. extra-virgin olive oil, plus more for crust
    •    2 c. broccoli florets, roughly chopped
    •    2 bell peppers, diced
    •    8 oz. sliced mushrooms
    •    1 lb. Italian sausage (sweet or spicy), casings removed
    •    1/4 c. all-purpose flour, plus more for rolling dough
    •    2 cloves garlic, minced
    •    1 tsp. dried oregano
    •    Kosher salt
    •    Freshly ground black pepper
    •    2 c. pizza sauce
    •    1/2 lb. refrigerated pizza dough
    •    2 c. shredded mozzarella
    •    1/4 c. sliced pepperoni
    •    Freshly grated Parmesan, for garnish
    •    Freshly chopped parsley, for garnish
Method
Preheat oven to 400°. In a 10- or 12-inch oven-safe skillet over medium heat, heat oil. Add broccoli and bell peppers and cook, stirring often, until slightly soft, 5 minutes. Add mushrooms and cook, stirring, until soft, 4 minutes more.

Add sausage and cook, breaking it up with a wooden spoon, until seared and no longer pink, about 4 minutes. Add flour and stir until vegetables and sausage are well coated, then add garlic and oregano and season with salt and pepper. Stir in pizza sauce and remove from heat. Let cool 10 minutes.

On a lightly floured surface, roll out pizza dough into a large circle a couple inches bigger than your skillet. Top sausage mixture with mozzarella, then place dough round over skillet and carefully crimp edges. Brush with oil and top with pepperoni.

Bake until crust is golden, about 40 minutes.

Let cool 10 minutes, then sprinkle with Parmesan and parsley before serving.


This great family recipe is thanks to delish Recipes at https://www.delish.com/cooking/a22998721/pizza-pot-pie-recipe/