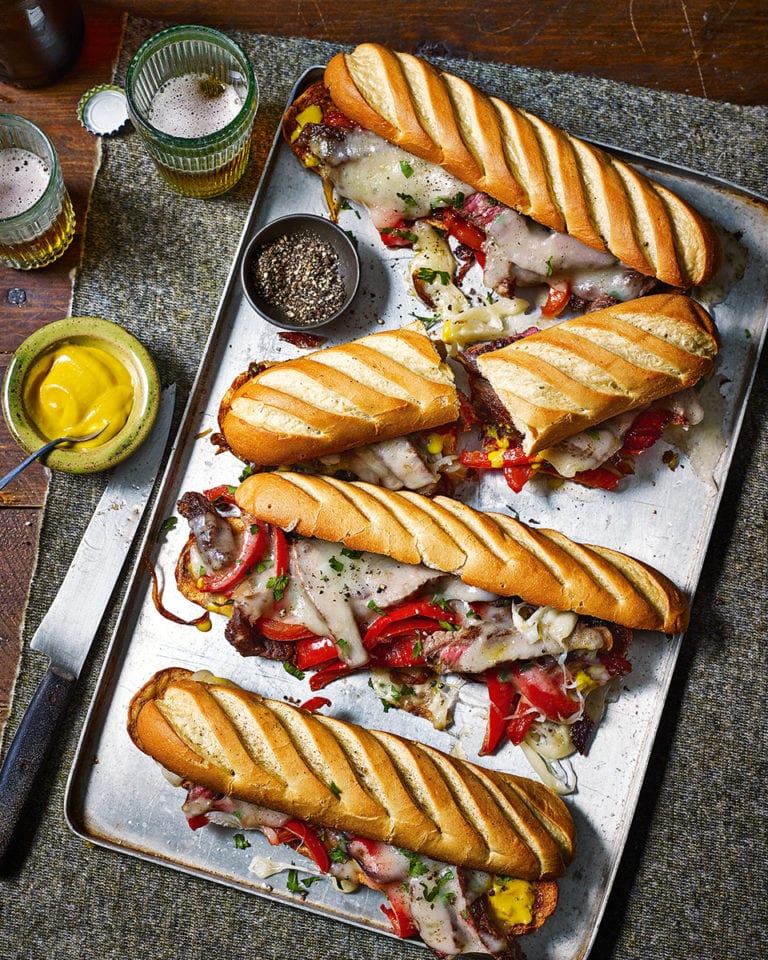 Philly Cheesesteak Toastie
Try our toastie version of this American classic: the Philly cheesesteak. Sweet fried onions, stringy cheese and seared beef steak are sandwiched inside a crispy sub. Make sure to serve with lots of mustard.
Prep Time
    •    Prep and cook time: 30 minutes
    •    Yield: Serves 4

Ingredients
    •    1 tsp sugar
    •    3 tbsps olive oil
    •    2 red onions, sliced
    •    2 tsps red wine vinegar
    •    2 garlic cloves, chopped
    •    English mustard (Optional)
    •    4 sub rolls or mini baguettes
    •    2 red or yellow peppers, sliced
    •    handful fresh flatleaf parsley, chopped
    •    2 x 500gm Rib Eye steaks, at room temperature
    •    2 x 100g packs Auricchio Thin Sliced Strong Provolone

Method
Heat the olive oil in a large frying pan, then fry the onions with a pinch of salt, stirring, for 5 minutes until starting to soften. Add the peppers and fry, stirring occasionally, for 15 minutes. Add the garlic, vinegar and sugar, then cook for 5 minutes more.
Heat the grill to medium. Split the subs/baguettes in half lengthways, then put on a baking sheet and toast cut-side up for a few minutes until lightly golden.
Heat a separate frying pan until smoking hot. Season the rib-eye steaks with salt and black pepper, then fry for 2 minutes on each side (or for up to 3 minutes if you like your meat cooked longer). Set aside on a board to rest, then slice.
Stir the parsley into the peppers/onions. Layer the bottom halves of the subs/baguettes with peppers, onions and steak, then add a layer of sliced cheese, dotted with mustard if using. Put the 4 topped subs/baguettes under the grill for 5-6 minutes to melt the cheese. Warm the top halves of the bread at the same time, then put on top to complete the sandwich. Cut in half and serve straightaway with extra mustard, if you like.
This great family recipe is thanks to Delicious Magazine at https://www.deliciousmagazine.co.uk/recipes/philly-cheesesteak-toastie/