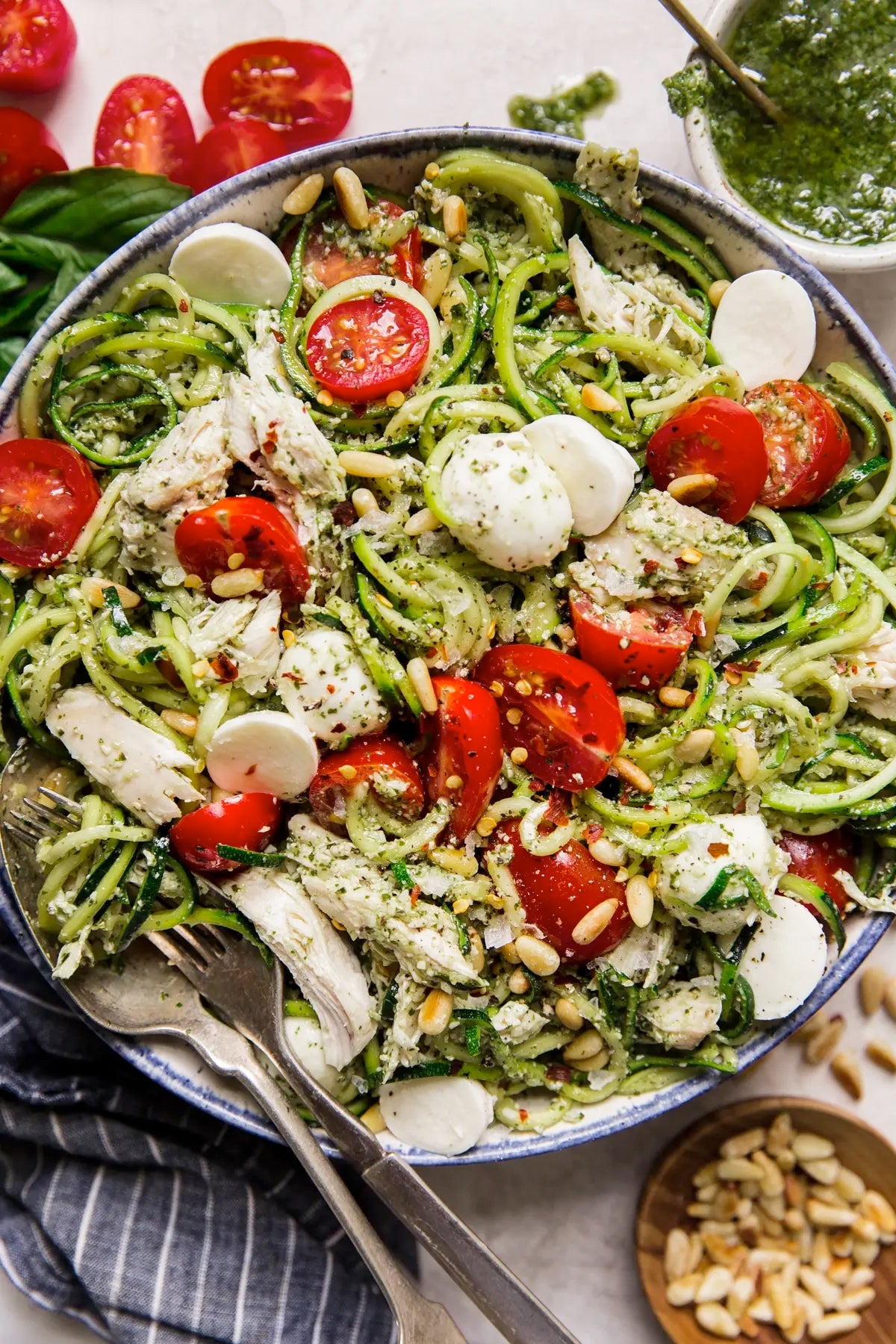 This stunningly beautiful, twisty-twirly pesto zoodle salad with fresh mozzarella, chicken and toasted pine nuts is a textural, colorful study in how to make the most of the late-summer harvest.
This is one of the best zoodle recipes we can think of, because it treats zoodles as a celebration of zucchini season rather than a tool of deprivation. Tossed with chicken, ripe cherry tomatoes, and pillowy fresh mozzarella, pesto zoodles aren't pretending to be a bowl of spaghetti. Spirals of raw zucchini, plucked at their ripest best, these zucchini noodles are not disguised as anything—and who would want them to be? Instead, these pesto zoodles are a joyful send up of seasonal eating at its finest.
Prep Time
    •    Prep time: 20 minutes
    •    Cook time: 5 minutes
    •    Yield: Serves 6

Ingredients
    •    1 pint cherry tomato
    •    1 cup homemade pesto
    •    2 cups shredded chicken
    •    1/4 cup toasted pine nuts (Optional)
    •    8 oz. pearl mozzarella or cubed mozzarella
    •    8 cups zucchini noodles (about 4 medium zucchini)

Method: In a large bowl toss zucchini noodles with homemade pesto. Top with mozzarella, tomatoes, shredded chicken and toasted pine nuts.
This great family recipe is thanks to The Modern Proper at https://themodernproper.com/pesto-zoodle-salad