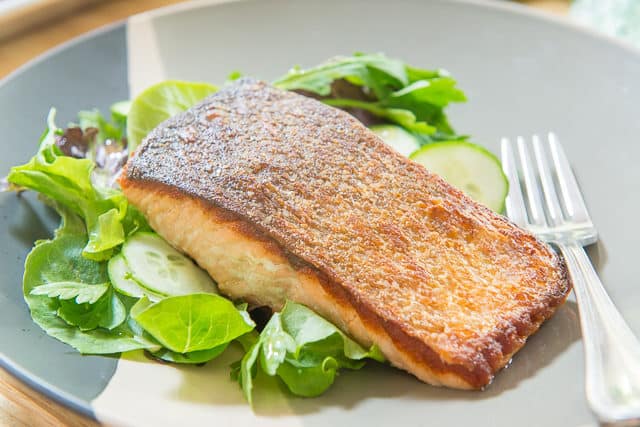 This Pan Seared Salmon has a robustly crispy skin and moist interior, just like at the restaurant. A moist, juicy piece of salmon with a robustly crispy skin is like icing on a cake. It's truly the perfect contrast to a big fat piece of tender salmon.
This is the ultimate way to enjoy salmon just like they make it at the restaurant, with a golden crispy skin and a moist interior. It's very easy to make at home!
Prep Time
    •    Prep time: 5 minutes
    •    Cook time: 5 minutes
    •    Yield: Serves 2
Ingredients
    •    salt
    •    2 salmon fillets
    •    avocado oil for searing
Method
Preheat a skillet over medium heat for 3-5 minutes (3 minutes for gas stoves, 5 for electric).


Add enough oil to coat the bottom of the pan, about 1-2 tbsp. The oil should shimmer.


Season the skin of the fish generously with salt, then test your piece of fish by touching the very end of it to the pan. If it makes a hissing sizzling noise, that means the pan is sufficiently hot. Go ahead and lay the fish down in the pan, always away from you so the oil doesn't splash.


Let the salmon cook for 90% of the time on the skin side. The salmon I get is usually about an inch thick, so I cook it for 5 minutes on the skin side.


Season the top of the fish with salt, then flip it over to cook for 15-30 seconds on the other side. Serve and Enjoy!


This great family recipe is thanks to fifteen SPATULAS Recipes at https://www.fifteenspatulas.com/how-to-sear-salmon-and-get-the-skin-crispy-like-the-restaurants-do/