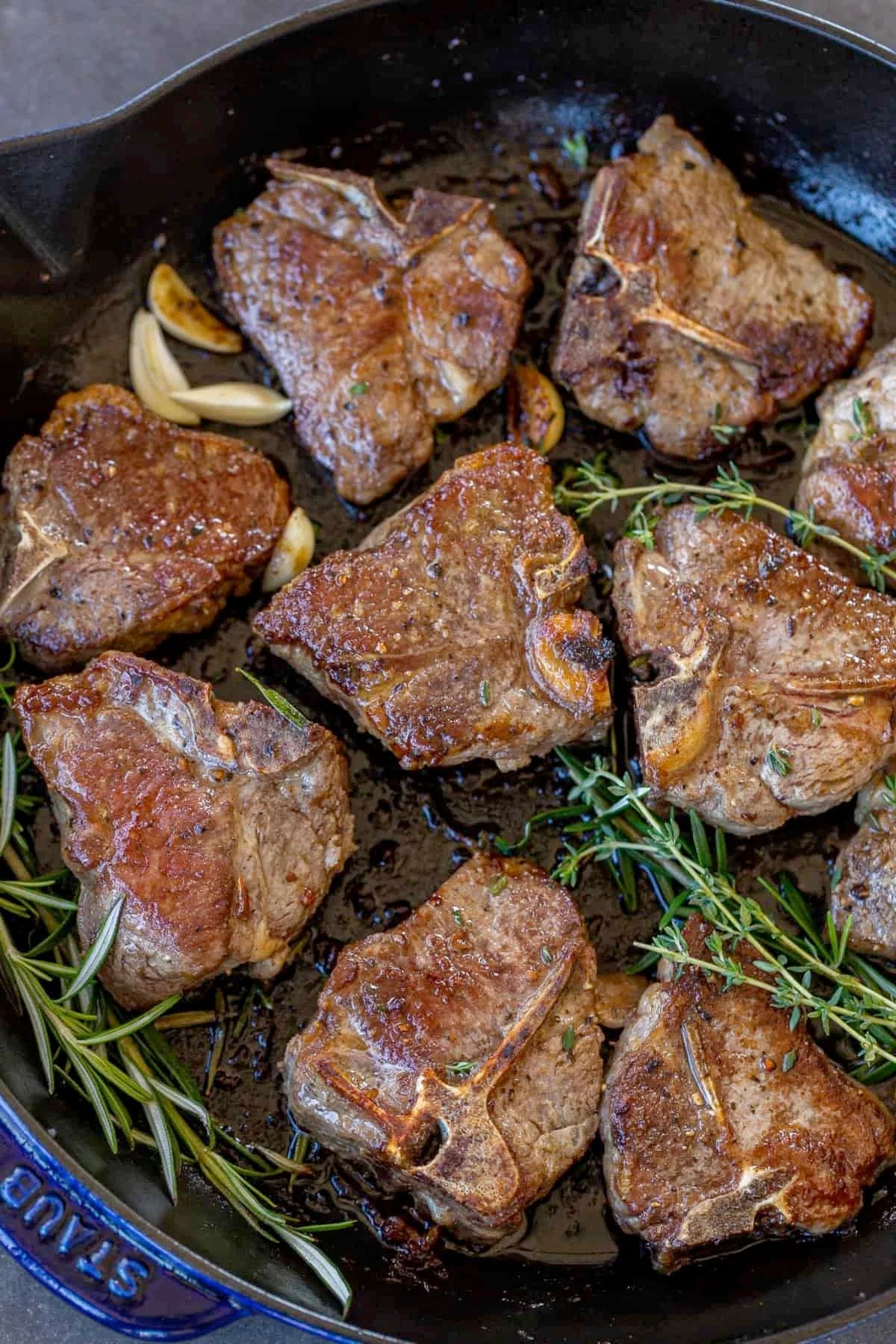 Pan Seared Lamb Loin Chops
Who said that lamb loin chops are only a dish you can order at a fancy restaurant? This simple recipe will teach you all that you need to know to make them in the comfort of your own home for a fraction of the cost. Get ready to droll…
These tender lamb loin chops are seared to perfection in a buttery sauce of fresh herbs & garlic. The perfect way to spice up your weeknight dinner rotation!
These pan-seared lamb loin chops are seared until golden brown with butter, herbs, and fresh garlic. Crazy easy, so decadent, and 100% restaurant-worthy!

Prep Time
    •    Prep time: 5 minutes
    •    Cook time: 15 minutes
    •    Yield: Serves 8

Ingredients
    •    5 garlic cloves sliced
    •    3 lb. lamb loin chops
    •    1 tbsp thyme chopped
    •    3 tbsps unsalted butter
    •    1 tbsp rosemary chopped
    •    1 tsp ground black pepper
    •    1 tbsp oil avocado or olive oil
    •    1 tbsp kosher salt adjusted to taste

Method
Season the lamb loin chops on both sides with salt and pepper.

Preheat a pan with oil over medium-high heat. Brown the lamb on both sides until golden (about 2-3 minutes).

Lower the heat to medium-low and add the herbs, butter, and garlic to the pan.

Cook the lamb for 10 more minutes, or until the internal temperature reaches 145°F. Enjoy!
This great family recipe is thanks to Momsdish at https://momsdish.com/lamb-loin-chops