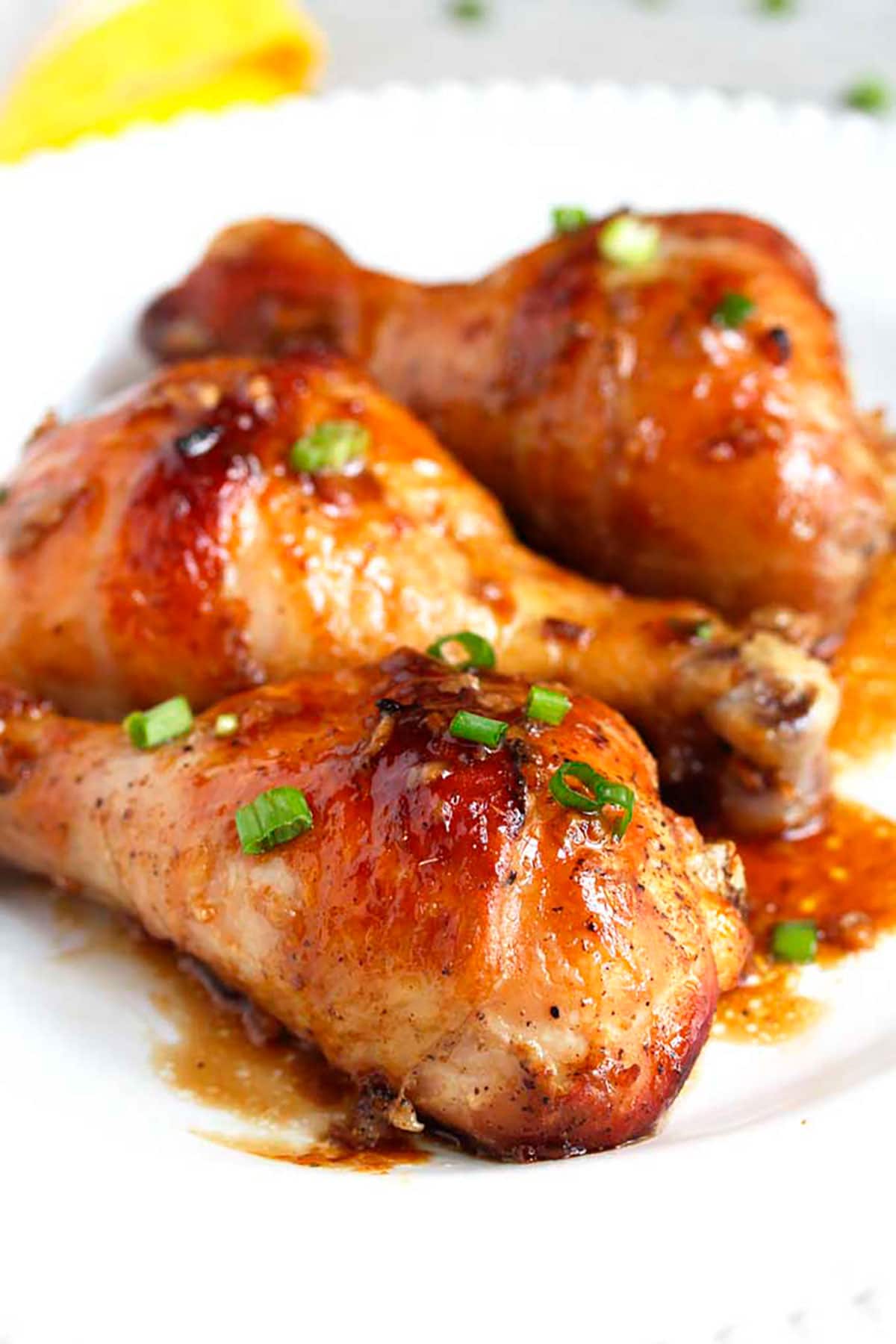 Easy Oven Baked Chicken Drumsticks (Honey Soy)
These Oven Baked Chicken Drumsticks are seasoned with a simple honey soy marinade made with only 5 ingredients, then baked until golden brown perfection. This easy chicken recipe turns boring chicken legs into a scrumptious dinner masterpiece! A crowd pleasing, kid-friendly meal!

Prep Time
    •    Prep time: 10 minutes
    •    Marinate time: 30 minutes
    •    Cook time: 45 minutes

Ingredients
    •    4 tbsps honey
    •    3 tbsps soy sauce
    •    1/4 tsp ground black pepper
    •    2 tbsps olive oil or vegetable oil
    •    6 garlic cloves, pressed or grated
    •    1 (1 inch) piece fresh ginger, grated
    •    1 scallion thinly sliced for garnish (Optional)
    •    4 pounds chicken drumsticks (about 12 drumsticks)

Method
In a large zip top bag, combine the garlic, ginger, oil, soy sauce, honey and ground black pepper. I massage the bottom of the bag to make sure the honey blends well with the rest of the ingredients.

Place the chicken drumsticks into the zip top bag, close and shake the bag to make sure all the chicken pieces get coated with the marinade. I like to massage the chicken a bit just to make sure the marinade penetrates every piece of chicken. Marinate for 30 minutes or overnight.

Preheat the oven to 375 degrees Fahrenheit.

Place the chicken in a single layer on a baking pan or rimmed baking sheet (the marinade leftover in the bag can also be placed on the baking pan).

Bake uncovered for 45 to 50 minutes or until cooked through.
This great family recipe is thanks to Lemon Blossoms at https://www.lemonblossoms.com/blog/honey-soy-baked-chicken-drumsticks/