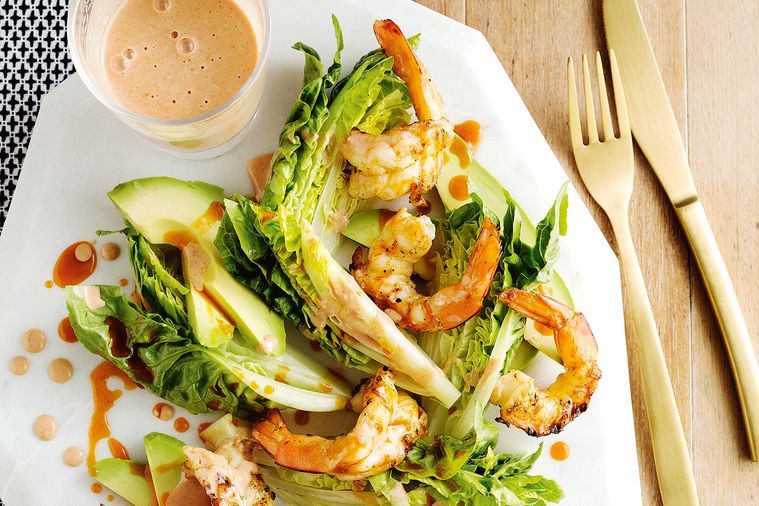 Out-of-the-Glass Prawn Cocktail
Nothing screams summer like a grilled prawn cocktail while you relaex poolside.
Prep Time
    •    Prep and cook time: 10 minutes
    •    Yield: Serves 4

Ingredients
    •    1 garlic clove, crushed
    •    1 large avocado, sliced
    •    1 small onion, roughly chopped
    •    1 tsp smoked paprika (pimenton)
    •    1 long red chilli, roughly chopped
    •    1/3 cup (80ml) extra virgin olive oil
    •    1 baby cos lettuce, cut into wedges
    •    20 large green prawns, peeled with tails intact (shells reserved), deveined, butterflied

For cocktail sauce:
    •    juice of 1 lime
    •    2 tbsps tomato sauce
    •    pinch of cayenne pepper
    •    1 tsp Worcestershire sauce
    •    1 tsp freshly grated horseradish
    •    2 tbsps whole egg mayonnaise

Method
Heat oil in a large frypan over high heat. Cook reserved shells, onion and chilli, tossing occasionally, for 5 minutes or until coloured. Add garlic and paprika. Cook for a further 1 minute or until fragrant. Strain oil into a bowl, pressing shells to extract as much oil as possible. Discard the solids.
For the sauce, combine all ingredients in a small bowl. Season and set aside.
Preheat barbecue to high. Drizzle half the prawn oil over prawns, toss to combine and season. Cook prawns, turning once, for 2-3 minutes until charred and just cooked.
Arrange prawns, avocado and lettuce on a plate. Drizzle with chilli oil and cocktail sauce to serve.
This great family recipe is thanks to delicious at https://www.delicious.com.au/recipes/daring-out-glass-prawn-cocktail-breaks-rules/c33d21ac-0ff4-4bea-9b4a-503decaa1c4e?r=recipes/group/sx8icie0