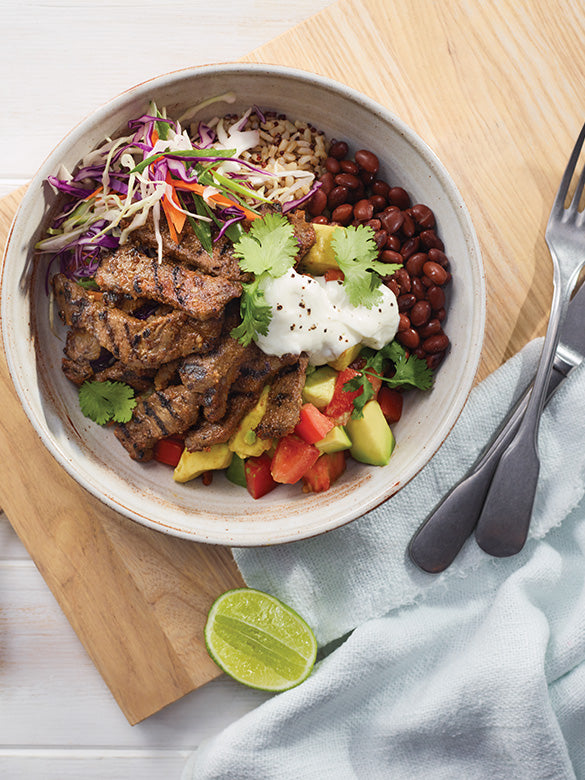 This simple Mexican Beef Bowl is a favourite for  a healthy and super quick family dinner. Using lean beef strips makes it simple and it all comes together in less than 15 minutes! Easy peasy.
Prep Time
    •    Prep time: 10 minutes
    •    Cook time: 10 minutes
    •    Yield: Serves 4
Ingredients
    •    600g lean beef strips
    •    30g packet taco seasoning
    •    2 x 250g microwave brown rice and quinoa
    •    400g can black beans, drained, rinsed
    •    200g pre-packed coleslaw
    •    1 large avocado, diced
    •    2 vine-ripened tomatoes, diced
    •    Coriander sprigs, light sour cream, lime wedges, to serve
Method
Place beef in a large snap lock bag, add taco seasoning, seal and rub to coat.
Preheat a large lightly oiled char-grill pan or barbecue over medium-high heat. Cook beef, in batches, for 1-2 minutes or until browned and cooked through. Set aside on a plate loosely covered with foil.
Prepare brown rice and quinoa according to packet instructions.
Divide rice and quinoa, beans and coleslaw between bowls. Top with beef, avocado and tomatoes. Serve with your choice of coriander sprigs, sour cream and lime wedges.
TIPS:
    •    Slice your own beef strips using rump, sirloin or porterhouse steak.
    •    Use any beans of your choice in the bowl– black-eyed beans, cannellini beans, red kidney beans, four bean mix.
    •    For the kids, serve with hard or soft taco shells.


This great family recipe is thanks to Australian Beef Recipes at https://www.australianbeef.com.au/recipes/mexican-beef-bowl/#