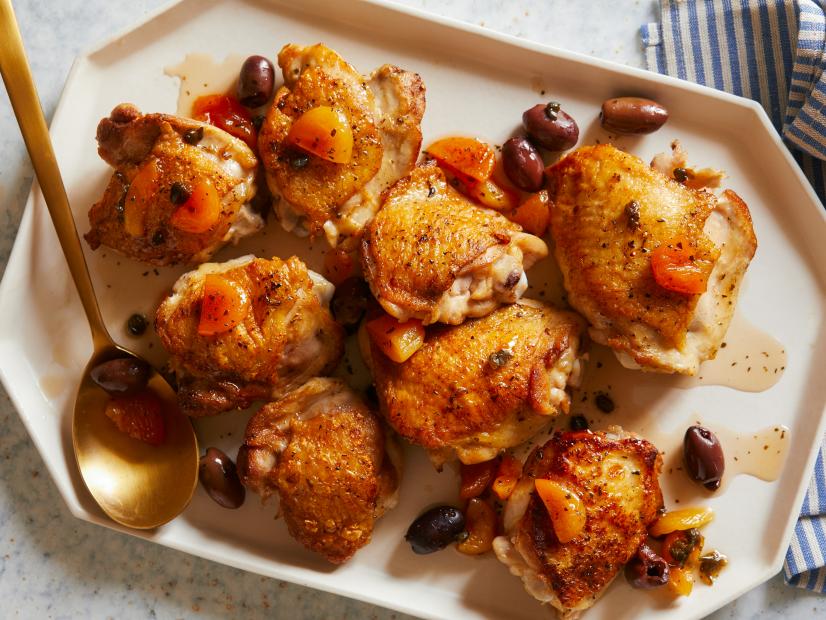 Instant Pot Chicken Marbella
This classic dinner party dish is made from start to finish in the multi-cooker. Briny capers and olives marry with dried apricots and a touch of brown sugar for the perfect blend of sweet and savory.
Prep Time
    •    Prep and cook time: 1 hour & 10 minutes
    •    Yield: Serves 4
Ingredients
    •    1 tbsp olive oil
    •    8 chicken thighs
    •    1/4 cup dry white wine
    •    2 tbsps drained capers
    •    1 1/2 tsp dried oregano
    •    1 tbsp light brown sugar
    •    3 clove garlic, thinly sliced
    •    1/2 cup dried apricots, halved
    •    1/2 cup pitted kalamata olives
    •    kosher salt and freshly ground black pepper
Method
Set a 6-quart Instant Pot® to high saute (see Cook's Note) and allow it to heat up for 5 minutes. Meanwhile, liberally sprinkle the chicken thighs on both sides with salt and pepper. Add the oil to the pot, then add half of the chicken thighs skin-side down. Cook until the skin is deeply browned, 6 to 8 minutes. Flip the chicken and cook until the second side is deeply browned, 4 to 6 minutes. Transfer to a plate. Repeat with the remaining chicken.
Add the garlic to the pot and cook, stirring constantly, until lightly browned in spots, about 1 minute. Add the apricots, olives, white wine, capers, brown sugar, oregano and 1/3 cup water. Stir to combine, using a wooden spoon or spatula to scrape up any browned bits at the bottom of the pot. Turn off the pot and put the rack on top of the olive and apricot mixture with the handles going up the sides. Nestle the chicken on the rack skin-side up.
Follow the manufacturer's guide for locking the lid and preparing to cook. Set to pressure cook on high for 10 minutes.
After the pressure-cook cycle is complete, follow the manufacturer's guide for quick release and wait until the quick-release cycle is complete. Being careful of any remaining steam, unlock and remove the lid. Transfer the chicken to a platter and use a slotted spoon to scoop the olive and apricot mixture on top and around the chicken. Cover loosely with aluminum foil to keep warm.
Remove the rack and set the pot to normal saute. Simmer the sauce until slightly thickened and reduced by half, 6 to 8 minutes. Spoon the sauce on top of the chicken and serve immediately.
This great family recipe is thanks to Food Network at https://www.foodnetwork.com/recipes/food-network-kitchen/instant-pot-chicken-marbella-5500566