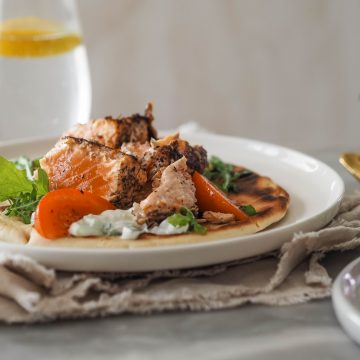 Versatile Huon Salmon is at home with any cuisine, we love these Greek inspired wraps for a quick and easy casual lunch of dinner.
Prep Time

    •    Prep time: 5 minutes
    •    Cook time: 15 minutes
    •    Yield: Serves 4
Ingredients
    •   500g Fresh Huon Salmon portions
    •   1 tbsp Huon Morrocan spice
    •   4 Large Souvlaki / Pita Wraps
    •   1 Cup Tzatziki
    •   2 Tomatoes, cut into thin wedges
    •   Handful of rocket leaves
Method
Sprinkle the Huon Salmon with the spice mix. Heat a medium fry pan, add a splash of olive oil and cook the salmon 'til golden brown.
On a hot chargrill pan, heat the souvlakis on each side 'til warm and soft.
To assemble, smear a generous serve of tzatziki on each souvlaki. Arrange the tomato, rocket then Huon Salmon on top. Drizzle with a little extra tzatziki.
To make your own tzatziki: mix 1 cup of Greek yoghurt with ¼ cup of grated cucumber, 1 crushed garlic clove, and a squeeze of lemon juice. Season to taste.


This great family recipe is thanks to Huon Aqua Recipes at https://www.huonaqua.com.au/recipes/huon-salmon-souvlaki/