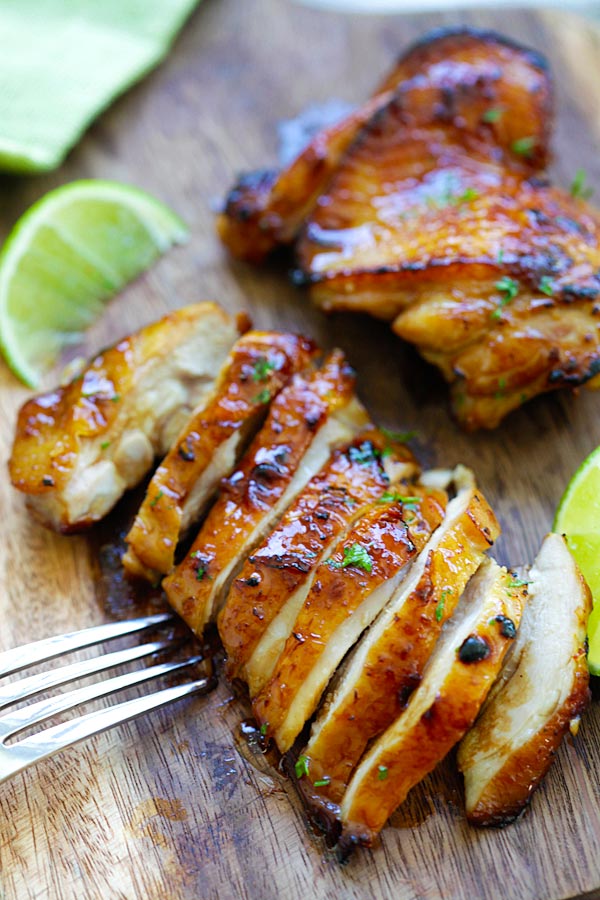 This Honey Lime Chicken is just crazy delicious with honey lime. The BEST chicken that you can make for your family, takes only 20 mins.
Prep Time
    •    Prep time: 5 minutes
    •    Cook time: 20 minutes
    •    Yield: Serves 3-4

Ingredients
    •    lime wedges
    •    2 tbsps honey
    •    1 big pinch salt
    •    chopped parsley
    •    2 tbsps lime juice
    •    1.5 tbsp soy sauce
    •    3 cloves garlic, minced
    •    3 dashes cayenne pepper
    •    1 lb (approx. 0.4 kg) chicken thighs

Method
Preheat the oven to 400°F (207°C).
Rub the minced garlic on the chicken thighs with your hands. Add honey, soy sauce, lime juice, cayenne pepper and salt to the chicken. (Double the marinade if you want it to be more "saucy"). Stir to combine well. Transfer the chicken and the honey mixture to a baking sheet lined with aluminum foil. Cover the chicken with aluminum foil to prevent burning.
Bake the chicken for 20 minutes, or until cooked. If the sauce pools at the bottom of the foil, spoon and brush the sauce over the chicken. Broil the chicken for 1 minute or until the chicken skin is charred. Remove from heat, garnish with parsley. Squeeze the lime wedges over the chicken before serving.
NOTES:
    •    If you use boneless and skinless thighs or chicken breasts, please take note that your chicken will look white as there is no skin and the broil function won't char the meat and make it dark.
    •    You may also make this recipe on a skillet or cast-iron pan on medium heat. Please make sure that you keep turning the chicken if you cook on the skillet or pan as it might get dark very quickly because the honey.
    •    You may also grill the chicken on an outdoor grill.
This great family recipe is thanks to RASA MALAYSIA at https://rasamalaysia.com/honey-lime-chicken/