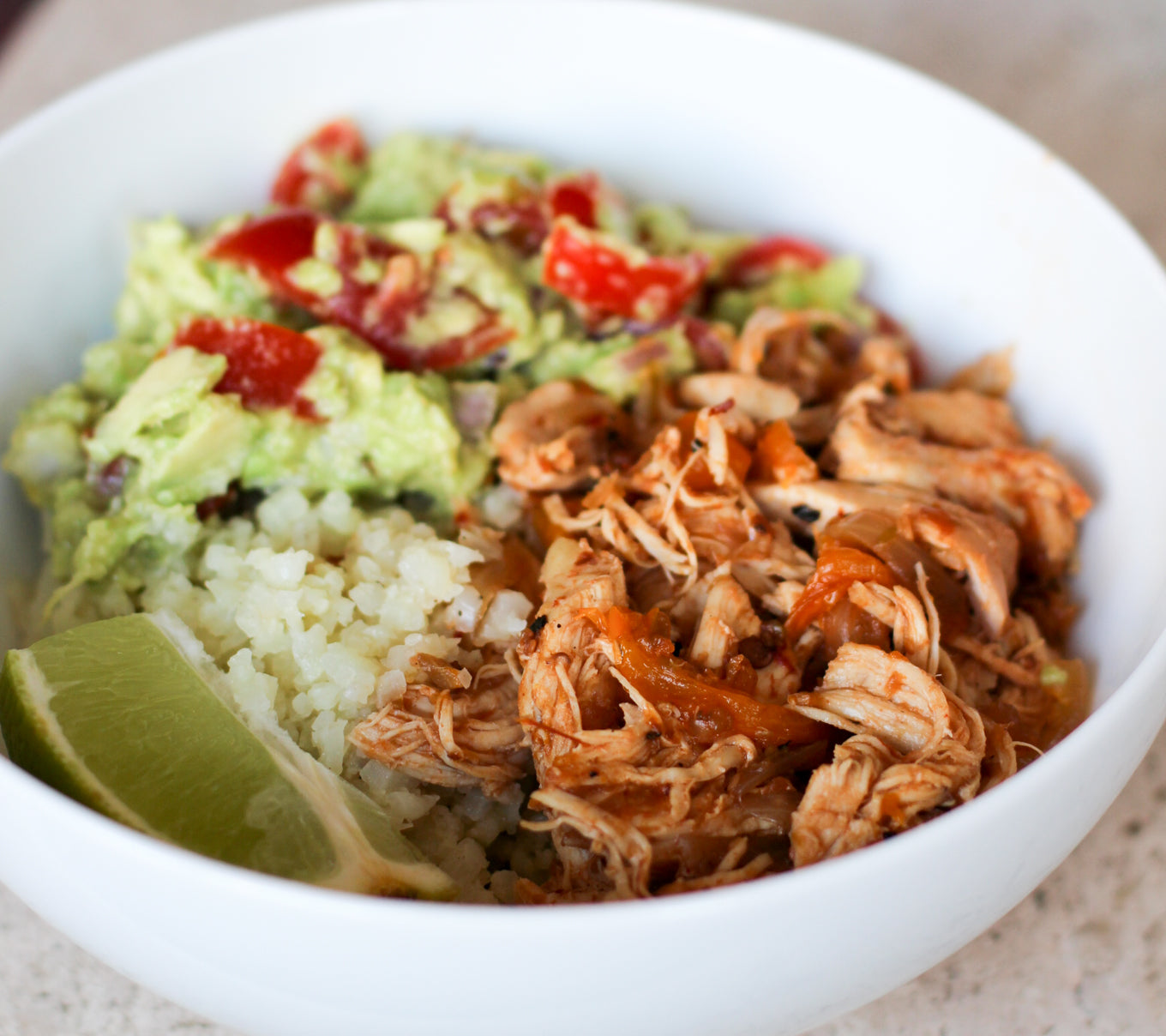 Healthy Chicken Taco Bowl (Whole30!)
I'm a big fan of making salsa chicken and it's even easier during the week to pop it in your crock pot. Since I knew I wouldn't be adding beans or grains to this dinner, I bulked up the chicken by adding a half a pepper and half an onion to the pot. Honestly, they melted into the shredded chicken so much that I should have added more! I actually changed this recipe to include a whole pepper and onion because I'm that confident it would be awesome. You could add even more if you want to! So yum!
To avoid grains, I used cauliflower rice… and the key for me is seasoning. I got the frozen kind from Whole Foods, so I just had to heat it up in a pan with a little olive oil! Season with salt, pepper, lime juice and red pepper flakes. You could even stir some chopped cilantro, too! And you can't have a taco bowl without guac, right?! Luckily, most fresh guacamole is already Whole30 compliant, but this recipe is for a super simple version. Takes no time at all!
Prep Time

    •    Prep time: 15 minutes
    •    Cook time: 25 minutes
    •    Yield: Serves 4
Ingredients
    •   1-1.5 lbs boneless skinless chicken breasts
    •   1 jar of salsa (I love Frontera Chipotle Salsa)
    •   1 pepper, thinly sliced
    •   1 onion, thinly sliced
    •   1 tsp olive oil
    •   1 cup of frozen cauliflower rice (per person)
    •   Pinch of red pepper flakes
    •   2 limes
    •   1 avocado
    •   1/2 cup cherry or grape tomatoes
    •   salt and pepper
Method
Adding your chicken, chopped pepper and onion, and salsa to your crock pot. Make sure everything is covered in salsa.
Cook on high for 4 hours. Shred the cooked chicken.
You can make your own cauliflower rice, but I recommend finding a frozen version to make this dinner easier. Whole Foods has a great version! Heat up with a little olive oil until warmed through. Season with salt, pepper and red pepper flakes. Squeeze half of lime on top.
Mash up one ripe avocado in a separate bowl. Add chopped tomatoes, salt and pepper, and the juice of one whole lime. Stir together.
Assemble your bowl! First cauliflower rice, then top with chicken/peppers and your simple guacamole. Enjoy!


This great family recipe is thanks to Yummly at https://www.yummly.com/recipe/Healthy-Chicken-Taco-Bowl-_Whole30__-2037710?prm-