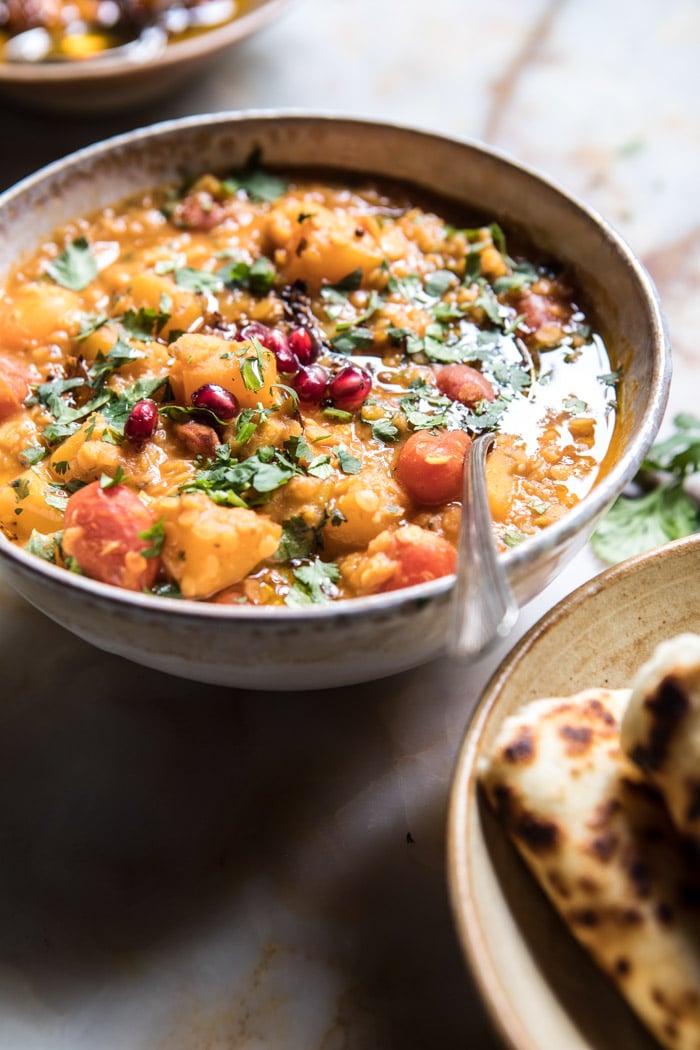 Harvest Tomato and Butternut Squash Dal
This is one of those recipes that I've been planning for a while now. Way back at the beginning of the summer I really wanted to make an Indian dal, but the recipe just felt a little too warm and cozy for a summer dinner. Me, being me, I decided to wait until the recipe felt seasonally right, and now is the time to finally tell you all about it.
Prep Time
    •    Prep time: 10 minutes
    •    Cook time: 30 minutes
    •    Yield: Serves 6

Ingredients
    •   2 tablespoons extra virgin olive oil
    •   1 inch fresh ginger, thinly sliced
    •   2 cloves garlic, smashed
    •   1 tablespoon yellow curry powder
    •   1/2 teaspoon crushed red pepper flakes
    •   3 1/2 cups water
    •   2 tablespoons curry paste
    •   1 cup red lentils
    •   2 cups cubed butternut squash
    •   1 1/2 cups cherry tomatoes
    •   kosher salt
    •   handful fresh cilantro, chopped
    •   naan, rice, and pomegranate, for serving

Spiced Oil:
    •   1/4 cup coconut oil or sesame oil
    •   1 inch piece fresh ginger, thinly sliced
    •   1 teaspoon cumin seeds
    •   1 teaspoon mustard seeds
    •   crushed red pepper flakes
Method
Heat the olive oil in a large pot over medium heat. When the oil shimmers, add the ginger and garlic. Cook until fragrant, about 2 minutes. Stir in the curry powder and red pepper flakes and cook another minute. Slowly add the water. Add the curry paste, lentils, butternut, and 1 cup tomatoes. Season generously with salt. Bring the mix to a boil over high heat, then reduce the heat to low, cover and simmer 20-30 minutes, until the lentils are soft and the tomatoes have burst.

Meanwhile, make the spiced oil. Heat the coconut oil, ginger, cumin, mustard seeds, red pepper flakes, and the remaining 1/2 cup of tomatoes in a medium skillet over medium heat. Cook until the spices are fragrant and the tomatoes have burst, about 10 minutes. Season with salt.

Remove the dal from the heat and stir in the cilantro. Taste and season with salt if needed.

To serve, spoon the dal over bowls of rice. Top as desired with cilantro, oil, and pomegranates. Serve with Naan on the side. Enjoy!


This great family recipe is thanks to Half Baked Harvest at https://www.halfbakedharvest.com/harvest-tomato-and-butternut-squash-dal/